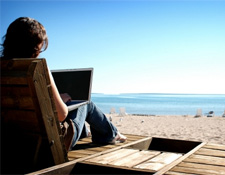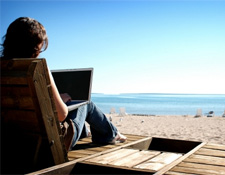 Almost 23 years ago, my husband and I "ran away" and got married on vacation in Key West. In our shorts. In the courthouse. Just the two of us. I have never regretted choosing to get hitched that way. There was no stress, no family arguments and it was cheap. Another thing we didn't do was WORK while on our honeymoon/vacation. Daily, our most critical decision was, "Pool or beach?" I remember we were floating in the pool and overheard two guys who obviously didn't know each other talking about their work. My husband and I looked at each other in amazement. Dudes, you're in Key West! I was particularly pleased that neither my spouse nor I wanted to talk shop.
A recent article in the Wall Street Journal, "Why Relaxing Is Hard Work," by Melinda Beck discusses the difficulty that many people have in disconnecting from work while on vacation. In fact, Beck quotes a stress expert who says that staying in communication with the office while off can often be less stressful for some people. How many of you have checked your email at the beach or at least the day before you return to work so you're not so slammed when you go back? That makes sense to me; it's a way to ease yourself back into work mode. It's also a way to prevent something I call "Vacation Re-Entry Syndrome." (This should not to be confused with "Vacation Punishment Disorder" when your boss and co-workers have to torture you because you had the guts to be away from work for more than 24 hours.)
The article goes on to explore why it is so hard for workers to relax and that many have become stress junkies. Not multi-tasking every minute makes a lot of people antsy. But some folks just get bored lying on a beach. Activity-specific vacations might be the answer – kayaking, skiing or planning something else physical.
Last fall, I posted here about disconnecting from work during any time off, "Disconnecting During Downtime." Some people need baby steps – try just turning off your mobile for a couple hours. I dare you…
P.S. – Don't forget to "Take Back Your Lunch" too!
This is a post by Nancy LaFever. You can read more from her at the Centre for Emotional Wellbeing blog.