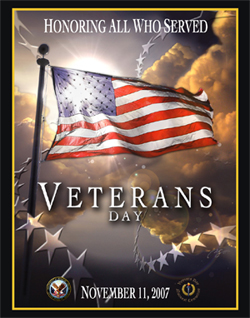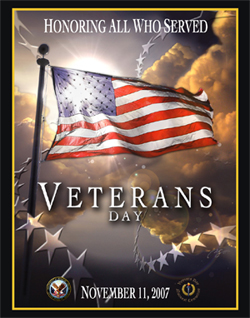 For a country that plasters yellow bows all over their SUVs – proclaiming "Support Our Troops" – we should get Veterans Day off from work, no?
And I'm not just saying that because I'd like an extra day off from work.
Rather then give the day off to teachers, bank tellers and political suits to shop the day away, we all should get the day off, and then have to spend at least half of it truly honoring members of our armed forces.
Spend some time at a VA hospital or VFW hall. Raise some money. Raise awareness. Do anything you can to help veterans.
A recent study showed that 26% of the country's homeless population are veterans.
That's how we thank out troops?
With over 200,000 strong in Iraq and Afghanistan, we clearly need to take better care of these folks. Employers can start by mobilizing their workforces to do more on Veterans Day. I know I'm generalizing. There has to be some employers out there that do something special. Right? Please let me know of some in the comments section below.
Most people don't even get what the holiday is about. Let's set the record straight:
Veterans Day: Acknowledge and thank living veterans and the sacrifices they made for duty.
Memorial Day: Remember and honor military personnel who died during service.
Now that you know what the day is about, you also need to know how to spell it: VETERANS DAY. No possessive 's' since the day doesn't belong to veterans – it belongs to everyone.
Another survey turned up the following facts:
– 61% of employers don't understand how military experiences translate to a non-military career
– 81% of service members do NOT feel they are prepared to
Jobacle salutes the job Web sites that are doing the right thing by looking out for the nation's vets:
HelpUSA
VeteransCorp
VetJobs
HireAHero
MilitaryHire
MilitaryJobZone
Dept. of Veterans Affairs