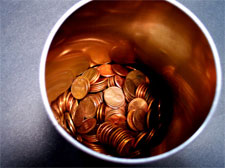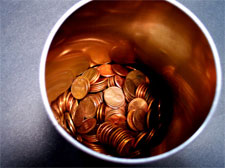 If you're like the Jobacle gang you're likely living paycheck to paycheck. What if we told you that there's a way to save money while you're at work. You'll hardly be able to retire young, but you can set yourself up for some financial wiggle room. Here are some helpful penny-pinching MoneyHacks:
Buy In Bulk – The vending machine at work charges $1 for a bottle of water. For the price of three I can buy a 24-pack at the local supermarket. Water often goes on sale for $3.99 for two dozen. Even if you don't want to wait for a sale that standard price is usually $5.99. Either way, it's better than visiting the vending machine.
It doesn't have to stop with water. Other good items to buy in bulk include cereal, tea or any other item you like to snack on.
Never Order In – Aside from the obvious expense of tax and tip for the delivery person, it's commonplace to overpay for your food when a work group orders in. Bringing food from home will not only save you money, but it will likely be better for you too. One of the keys to making this item successful is to PLAN. Make a list of what you need to buy and what you're going to eat and when.
Take All Swag – Everything can be sold on eBay. EVERYTHING. When those crappy T-shirts with another company's name name come in or some other piece of junk – rather than throw it away – stock it somewhere. You might be able to make a few extra dollars a year. One man's junk is another man's treasure. Why not cash in?
Start a Piggy Bank – It doesn't really have to be a pig. I use a paper cup tucked away in my middle desk drawer. Every time I have loose change I empty my pickets and make a deposit. As the days, weeks and months blend together, the amount of change grows – eventually turning into dollars. It's also useful if you need a quick fix from the vending machine and don't want to break a big bill.
Borrow Supplies – We don't condone stealing; But why buy when you can 'permanently borrow?' Pens, pads, scotch tape- even napkins and plastic utensils from the break room. All in moderation, friends.
Annual Donations – Instead of getting hounded by co-workers for a dollar here and a dollar there, make one generous donation at the beginning of the year. Let your colleagues know that you've done this in lieu of participating in any collections. This kills three birds with one stone. 1) You'll be left alone to do your job. 2) Charity is good karma and there are much better causes than Joe's birthday or Marie's engagement. 3) The donation is tax deductible.
Other ways to save money at work:
Every time you receive a small raise (i.e – 2%) increase your 401k contribution by that amount.

Use company Internet and cancel your home account

Carpool or use mass transportation

Reuse a single water bottle or ceramic mug

Print and clip coupons for your weekly supermarket shopping
Now it's your turn! How do you pay yourself first?