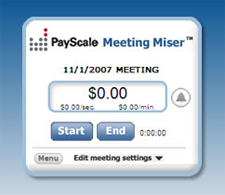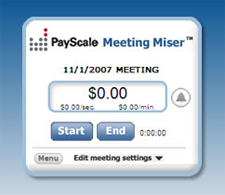 Here's your 'Get Out of Meetings Free' Card.
Meetings are the ultimate in annoying teenage foreplay: There's lots of awkward stroking and nothing ever seems to get accomplished. We all know this futile exercise is nothing but a time and money waster. Well thanks to the Meeting Miser from PayScale.com, you can now calculate exactly how much your time in a meeting is costing the company – down to the cents per minute.
Just tell the calculator where you are located and the titles of the people attending the meeting. PayScale will then use their collected salary data (which in my experience is pretty accurate) to do the math.
I'm only worth about 50 cents a minute. But given some of the marathon meetings we have in my neck of the woods – it adds up fast!
How much is your meeting time worth?