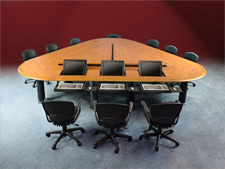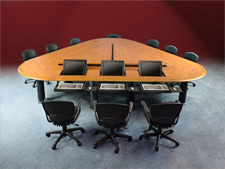 I've got two questions. Is it just media or do all industries find more and more reasons to call longwinded meetings about any and every topic involving the company?
Second, assuming the first answer is yes, do these meetings seem to require the presence of all or most employees?
Let me say now that my current boss does not feel the need to involve me in all the day-to-day decisions no matter how big or small. He deals with his managerial responsibilities and brings me in when necessary. As a result I work with a level of autonomy that I haven't experienced in years. I have also grown more in my field and have become better at my trade because of it. He does exactly what he gets paid significantly more than me to do. For the company it means more efficiency. When endless meetings do not bog down full departments so much more gets accomplished in a more expedient manner. Maybe that's just my opinion but I'm sticking to it.
Check out the PayScale Meeting Miser to see just how much money is wasted!
While this has worked out great for my current situation, I currently work with a client that runs things a bit differently. The meetings are endless, the attendance a mandatory, and the employees are drained. I only recognize these signs because the last two companies I worked for ran in a very similar fashion. I spent roughly 5 years attending meetings for at least some portion of my day. My last company's CEO prided himself on his design for 'complete transparency.' So if there was a technical meeting involving the development of a new technology, everyone in the company had to show up to hear about it – including the receptionist. If it fascinated my boss it should fascinate everybody. Even when there were rumblings about the company going public – and even though talking about it was ill-advised by his lawyers – the CEO stuck with his method and held a company-wide meeting about it.
In the beginning I thought it was great. I was young and slightly naïve. I thought I was somehow more valued or more informed because I got to attend these meetings. That lasted until the overall work started to suffer. Other departments, taking his cue (and his encouragement), started calling meetings for everything they felt was important to them. I became the cliché worker reciting the cliché 'we need meetings to plan our meetings.' By the end of my time there it became quite apparent that this company was getting very good at talking about doing things and very bad at actual execution.
Download the Voice of Reason's Art of the Meeting podcast.
For one thing, everybody was allowed to attend. The first sign that there is no exclusivity at your organization is when intern attendance is mandatory. How can anyone in the company really know what their role and parameters are if everyone is exposed to the same level of information?
I apologize for not being very politically correct here, but not every voice counts, not everyone has a good idea to bring to the table, and not everyone that has been hired is going to care half as much about every facet of your company as you do, you egomaniac.
I realize that I've gone on a 543-word tirade (and counting!) about meetings. I may be way off base and that this way of running a company is not practiced as widely as I feel it is, but there is only one way to find out.
You gotta speak up.
Is it just my – until now – unfortunate streak? Or is this just another growing trend in the new-agey corporate world? Personally, I think its all greed and ego. Greed because a few recent Web giants were started by young people, even kids; i.e., Google, Myspace, Facebook, etc.
This has led to the belief that a good idea can come from anywhere so to make sure that no potential billion-dollar idea goes untapped everyone is made to feel that they have a voice and an open forum to share their genius. It's a whole lot cheaper to get an idea from a young underling – and a whole lot easier to "borrow" the idea too!
Ego because of the growing publicity that these young companies receive when they are praised by Fortune magazine for being so current, cool, and cutting edge. So as not to be seen as outdated they adopt some of these current trends like complete transparency to make them feel like they're still relevant and keeping up with changing tides. Unfortunately, if it's not in one's heart to run a company like this, you wind up with an organized chaos that makes people feel like so much is getting done – when in reality – you have only talked about getting things done.