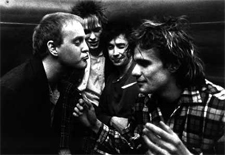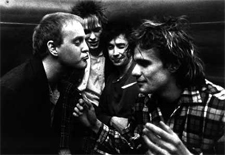 As a young lad I was often given heat for my fondness for the Goo Goo Dolls. (I'm still unapologetic!) It wasn't until their frontman Johnny Rzeznik told me that he grew up idolizing The Replacements that I became familiar with Paul Westerberg's music.
With tight songs that blend classic and punk rock, it's fair to say I was an instant – albeit – late blooming fan.
The Replacements are best represented by "Bastards of Young," a song that got them banned from SNL due to their "inebriated state." Whether you're working in the fields or in an office, we all can relate.
God, what a mess, on the ladder of success
Where you take one step and miss the whole first rung
Dreams unfulfilled, graduate unskilled
It beats pickin cotton and waitin to be forgotten
We are the sons of no one, bastards of young
We are the sons of no one, bastards of young
The daughters and the sons
Clean your baby womb, trash that baby boom
Elvis in the ground, therell aint no beer tonight
Income tax deduction, what a hell of a function
It beats pickin cotton and waitin to be forgotten
We are the sons of no one, bastards of young
We are the sons of no one, bastards of young
The daughters and the sons
Unwillingness to claim us, ya got no word (war? ) to name us
The ones who love us best are the ones well lay to rest
And visit their graves on holidays at best
The ones who love us least are the ones well die to please
If its any consolation, I dont begin to understand them
We are the sons of no one, bastards of young
We are the sons of no one, bastards of young
The daughters and the sons
Young…take it, its yours…