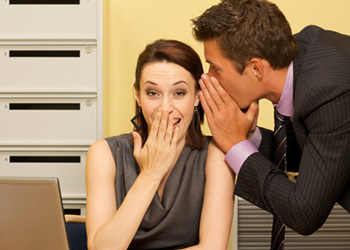 They say there are only two certainties in life: Death and taxes. Well, Shirley MacLaine has a different view of death and you can ask Michael Milken about how he felt about paying taxes. Just to be on the safe side, let's assume death and taxes are inseparable parts of life. Then, there must be one more certainty that clings to us like a Koala Bear clings to a lush Eucalyptus tree.
Gossip pervades virtually every office from the corridors of multi-story corporate buildings to the coffee stained small rooms that business owners use to hold employee meetings. The reasons vary for the presence of office gossip, but the negative effects of the rumor mill often poison the business culture beyond the point of no return. Offices that sink in the mire called office gossip experience poor morale, lower productivity, and worst of all, high employee turnover. Why you should disengage from office gossip begins and ends with the bottom line.
Poor Morale
Office gossip creates a hostile work environment where workers worry more about what fellow employees say about them than the work they must perform. Backbiting and false rumors create a level of dissension that produces low employee morale. Instead of enthusiastically arriving to the office, employees slink in the back door trying to avoid Johnny or Jenny gossip that has the latest bit of juicy news about the boss. The first reason why you should disengage from office gossip involves creating a work environment that enhances employee morale.
Lower Productivity
Poor morale lowers the productivity of every employee. The result is a business that clunks along ineffectively trying to generate profits. Productivity is the heart of the business model, as businesses that produce more with fewer resources thrive in highly competitive markets. Ensuring you continue to maintain your high productivity sets an example for other workers who need to talk less and work more. Why you should disengage from office gossip does not always center on ethical questions, but instead, on the financial health of your business or non-profit organization.
Prevent Employee Turnover
Office gossip can deteriorate into an abyss of lies and innuendos so quickly that employees begin to jump the sinking ship. Why you should disengage from office gossip includes making sure you do not lose high performance team members who cannot stand working in an environment besieged by vicious rumors. Employee turnover is like the leech that sucks a living organism dry. It drains financial resources by requiring businesses to devote money for the recruitment and development of new employees.
Workers who engage in rampant office gossip demonstrate a lack of character. Not only should you disengage from office gossip, but you should also intervene to eliminate it from the work environment. Ways to disengage from office gossip include changing the subject, implementing distraction techniques, and openly telling gossipers that their behind the back insults are hurting the feelings of other people. You should also consider talking your manager to explain why you are taking steps to remove gossip from the workplace.
Above all, why you should disengage from office gossip is because office gossip can destroy your career.