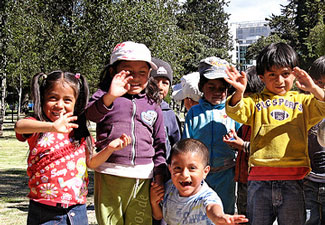 Do you want to help shape the next generation positively? Do you love working with children? Are you able to communicate really well with them? Then working with children might be just the right career choice for you! Here are a few highlights to help you in your research and decision-making.
A choice of roles
Children's workers generally collaborate in some way with social services providers in the community and also in schools. The careerplanner.com website indicates that child care workers look after children in private homes, child care institutions, schools and businesses. They are responsible for feeding, bathing and dressing the children, and monitoring their play. Child care workers play a vital role in helping children's development, and encouraging them to understand themselves and other people. They are also often required to maintain records on the medicines and meals given to the children, as well as other relevant activities. Other child-related jobs include early years, primary and secondary school teachers and teaching assistants. In addition, the Children and Young People Now website highlights the additional roles of hostel manager, child-minder, the family court adviser, the family outreach worker, the educational psychologist, and the special educational needs coordinator.
Get qualified
It is absolutely vital to ensure that you meet the requirements for your chosen career. The careerplanner.com website lists a number of important requirements needed to work with children. These include understanding the principles for delivering customer and personal services, a knowledge of psychology, knowing how to treat behavioural disorders, and understanding motivation and learning processes. A good knowledge of the content and structure of the English language is also important.
The Department of Education's website stresses that, to attain qualified teacher status (QTS), you must finish an initial teacher training (ITT) course. There are several options available to do this, so you can choose the one that is most suitable. For example, there is both university-led training and school-led training. All ITT courses require spending time in-school so that you can hone your practical skills. QTS accreditation is needed to teach in state-maintained schools in England and Wales.
In general, qualifications in social work, childcare, social care, youth work, child care, education and counselling can all help you secure roles working with children.
Search Carefully
Child-related jobs can be found on numerous general employment websites. In addition, there are many excellent websites and recruitment agencies that specialise in jobs in this field. The appropriate government departments and charities also offer extremely insightful advice.
Be Legal
The GOV.UK website stresses that a Disclosure and Barring Service (DBS) check (previously a Criminal Records Bureau CRB check) is often a requirement for working with children, and a potential employer will always request a DBS check for certain roles. However, job applicants cannot do this themselves, although they can ask for a basic disclosure. The Scottish Family Information Service website notes that childcare jobs in Scotland (except for child-minders) are regulated by the Scottish Social Services Council (SSSC). Workers must register with the SSSC, and to do this they must hold a recognized qualification or be working towards one.
Finally
Working with children can be fascinating and extremely rewarding. Be sure to find out exactly what qualifications, clearances and registrations are needed for your specific career choice, and request further help if necessary.