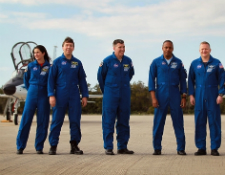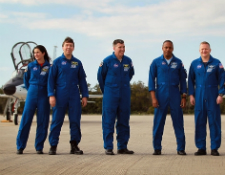 With NASA's last shuttle launch, Andrew was worried about the fate of all those unemployed astronauts. So I offered to look into some new job opportunities for them. As we all know, in this uncertain economy, a lot of workers have to consider positions outside their areas of training and expertise.
Requirements for Astronaut
First I had to find out what requirements you have to meet to be an astronaut so I could determine their skill-set. I have to admit, I really don't know much about what they do besides go up, come down and do the weightlessness thing. I'm not in any way discounting their expertise, I'm just uninformed.
According to NASA's website info for students, you have to have good vision, good blood pressure and be between 62 and 75 inches tall. Oh yeah, you also need a bachelor's degree in engineering, math or science. Under the specialist areas, like mission specialist, you have to do more stuff. Details, details. What are they going to do now?
Here are some possible options:
DWTS – I would think all that weightlessness experience would make you light on your feet. Former astronaut Buzz Aldrin set the precedent and was on Dancing with the Stars.

Conspiracy Theory Teacher – When times are tough, I guess you sometimes have to go over to the dark side. Any of the moon landing folks could teach willing conspiracy students their version of what really happened.

Planetarium Director – Self-explanatory. "See that one? I circled it. It's really big."

Cirque Du Soleil Performer – With an astronaut's ability to survive in very tight spaces, I'm guessing wadding yourself up into a human turtle should come easy.

Anything that Requires You Fill Out a Jumpsuit Nicely – Oh be honest, did you ever see an astronaut who didn't look great in a jumpsuit?
But seriously, with their training and skills, starting a second career should be a snap. If not, there's always doing cameos on TV shows.
This is a post from regular Jobacle contributor Nancy LaFever.