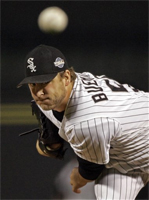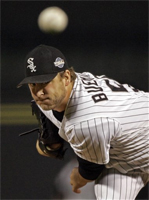 It's the dream of any kid who has ever picked up a baseball. 27 up, 27 down. Sure it ranks behind the bottom of the ninth grand slam and the over-the-wall-homerun-robbing catch, but the perfect game definitely cracks the top 5.
Chicago White Sox pitcher Mark Buehrle became the first major league pitcher in five seasons to hurl a flawless game. And that got me thinking…
WHAT WOULD MY PERFECT GAME LOOK LIKE?
I'm not a baseball player. I'm your average middle class, blog-writing, new-media loving Webaholic who mostly operates under the radar.
I have work goals that I would like to accomplish; career feats that I am driven to achieve. But when I sit down, take a few deep breaths and clear my mind, I still have no idea what my version of a perfect game would look like.
That's a problem.
Since dream chasing is an important aspect of success, I'm now determined to put more thought into what ultimate perfection looks like for me. Is it an error-free presentation? Consecutively successful projects? Increasing ROI by 100%? I don't know, but thanks to Mark Buehrle's magical performance, I am now on the path to find out.
What does a "perfect game" look like for you?