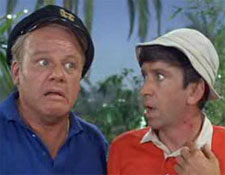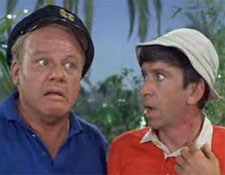 This world would be a better place if none of us had to deal with a cranky boss who has unrealistic expectations. It would also be helpful if the pot at the end of the rainbow could be found behind your local Starbucks. But that's not how things work and until they do you'll have to figure out how to deal with your boss.
To come up with a viable strategy we can look to the characters on the classic television show "Gilligan's Island." Each castaway exhibits one of five distinct personality traits. Once you know which category your boss falls into you'll have a better idea of how best to work with him or her.  And if nothing works, you'll need a guide on how to quit.  Just sit right back…
The Millionaire — Here we have the Narcissist. He has an inflated ego, views his employees as his personal waitstaff and may or may not speak with a clenched jaw. He is assertive, goal-oriented and success-driven. He does not tolerate incompetence.
How to cope
In short, you'll need to stroke his ego. You need to speak in terms of how a project will benefit him and the company. If you'd like to work off-site more often you'll need to explain how doing that can bring in more revenue for the company.
The Skipper — This person has a need to dominate others. He is bossy, quick-tempered and wants things done his way. He has a need for applause and uses others to achieve his goals. There's always a fire that needs to be put out.
How to cope
Unfortunately a good offense is a good defense. You'll need to anticipate the potential problems that may arise with every new project. If you can do that you'll be his right-hand man, but he'll never give you the credit you deserve.
The Movie Star — Vanity, vanity; all is vanity. This person is extremely self-absorbed. He is concerned about how he looks to others and believes he can get what he wants because of how he looks. He tends to be manipulative and is used to getting his way.
How to cope
Short of looking for a new job, you must pay close attention to details and always meet his deadlines. Learn your bosses likes and dislikes and make sure your clothes are pressed and your hair is perfect before you walk into the office each day.
It really might be best to look for a new job.
Gilligan —  This is the man with the Peter Pan complex. He would much rather live in his head than the real world. His business plans lack direction, he does the minimum to get by and he relies on you to make the project work. Basically he has been promoted to his greatest level of incompetence.
How to cope
Working for this person will be extremely frustrating. You're going to need to put on your problem-solving hat so you can manage upward. That is to say, you'll have to  find ways to subtly manage your boss in order to limit the damage he causes.
The Professor — This is the intellectual who likes gadgets and relies more on his mind than others. He is an analytical problem solver who tends to be a loner since he is somewhat socially awkward.
How to cope
You'll need to mirror his analytical thinking; he'll shut down if you mention feelings and team morale. A better plan is to suggest how the team can become more efficient through specific tasks. He is interested in the concrete method that will yield his desired results. You'll earn his respect if you can show him how to build a better mousetrap.