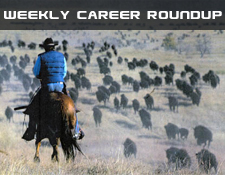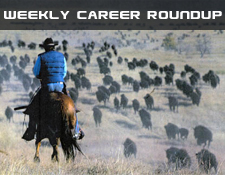 Here's a look at some of the big career news from the past week.
JOBACLE: For the blog, March came in like a lion…and is leaving like a lion! Over 15,000 unique visitors, new partnerships and lots of freelance work: I can't thank you all enough! Your continued support is appreciated.
ENTRY LEVEL EMPLOYEES: CollegeGrad.com, an entry level job Website, has released the results of a survey examining what employers want most from recent college grads. The results:
#1 – The student's major (44%)
#2 – The student's interviewing skills (18%)
#3 – The student's internship/experience (17%)
#4 – The college the student graduated from (10%)
#5 – Other miscellaneous qualifications (5%)
#6 – The student's GPA (4%)
#7 – The student's personal appearance (1%)
#8 – The student's computer skills (1%)
Five hundred "top entry level" employers participated. Are we really supposed to believe that only 1% of the folks care about appearance? C'mon! This is the real world. I'm also surprised that so few of these employers care about computer experience, especially when some of them are named Microsoft, Boeing, and the IRS. Hmmmm…
LINKEDIN: Last week with little fanfare, LinkedIn, everyone's favorite 'grown up' social network, rolled out company profile pages.
Registered users now have access to fact sheets for approximately 160,000 companies. Info includes company descriptions, industries, headquarter addresses, size, Websites and more.
Company profiles will reveal who has recently been hired or promoted. If you're searching of a job, you can also determine which companies employees usually come from and leave for. Also, of course, find out which companies you are "connected: to.
Currently, employers can't edit their profile pages. However, in the near future, overviews will be able to be edited and enhanced, they even might be made available ad a widget.
As someone so immersed in the digital world, I'm still unimpressed by social networks as a whole. However, with the addition of one million new users a month, LinkedIn can't be ignored. Now who wants to make a connection?
HOTJOBS: Your odds of landing a job via HotJobs just decreased even more, thanks to the company's unveiling of the R.E.A.L. algorithm.
R – Relevance: Matching text in job titles and descriptions to the keywords candidates use
E – Engagement: Measuring how well candidates respond to the job listing
A – Availability: Determining that the positions displayed are still unfilled
L – Location: Showing jobs in a location of interest to the candidate
Still relying on the 20th-century corporate handbook, the company seems enamored with a 'clever' acronym. The HotJobs crew says applications have already increased by 25 percent. But unless the number of jobs they are offering have increased as well (not to our knowledge), this is good news for recruiters, bad news for job seekers. Math ain't my strong suit, so if I'm off base, speak up!
We don't like getting bogged down in details. Read more about R.E.A.L. here.