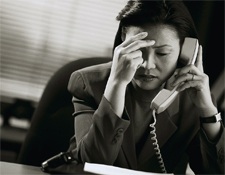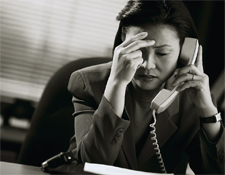 There are many reasons as to why you may be enduring stress in your career. It is important to keep in mind that not all stress is a bad thing. In fact, when you learn how to positively handle stress, you can maximize your job productivity to levels that you never thought were reachable. The number one thing to remember when it comes to dealing with job stress is that it is fixable, but you are the one who must take the steps to fix it.
The first step to coping with career stress is to recognize that it exists. Below are a few of the symptoms and signs of job stress:
– Low morale
– Frustration
– Apathy
– Alienation
– Boredom
– Absenteeism
– Anxiety
– Irritability
– Fatigue
– and more
While organizations should take the time to implement practices that assist their employees in dealing with work related stress, there are several things that you can do yourself to get through the rough times. Continue reading below for some helpful tips:
1) Change your job situation: This does not mean that you have to change the place in your career that you have worked to achieve, rather, you should speak with your supervisor about changing the job position in which you are currently working. Try moving into another position that is more tailored to your skills. In the event that you have been promoted and the new duties you are taking on are causing you too much stress, you may need to consider switching back to your previous position.
2) Take time off: Everyone needs a break now and then from work. Even if you are successful at taking on extra workloads, make sure you are not taking on so much work that your mental health is suffering.
Taking time off work does not necessarily mean that you need to take a vacation either. Sometimes, it simply means taking your work breaks alone instead of going out to lunch everyday with your co-workers.
3) Keep a positive attitude: Do your best to keep a positive attitude in any type of situation that you get into while completing your work duties. Also, do your best to stay away from your co-workers that tend to maintain a negative outlook. An excellent way to maintain a great attitude is to reward yourself for the achievements that you make. In doing so, you will feel good about the efforts that you put forth into your work related tasks.
4) Be realistic: Do not have unrealistic expectations when it comes to accomplishing your work duties. You can only accomplish so much in 24 hours, and ideally, you should not be spending 24 hours of each day working. In order to cope with stress, you must maintain a healthy amount of sleep as well as eating healthy.
5) Organize your work space: Clutter in the office can cause stress. Even if working in a messy environment does not tend to bother you, chances are, if you are already dealing with career stress, the clutter will only make it worse. Take the time to organize your work supplies and the area you are working in. If you don't have the time to organize all your work belongings in one day, take an hour each day to organize it. After a few days, you can have a great portion of it looking much neater than it did before.