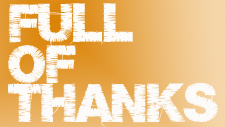 "Today, I'm grateful for…"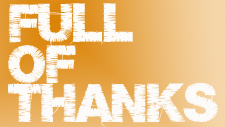 This time of year, it's important to feel some gratitude and not just for your mom's amazing pecan pie. When I was a counselor in an alcohol and drug treatment program, one of the first things patients focused on in early recovery was the "gratitude list." It's easy – at the end of every day, list at least 5 things (10 is better) for which you are grateful. It became a habit for me. Some really bad days, maybe all I came up with was "I'm grateful I have a garage so I don't have to hack 10 inches of snow off my car." But doing it reminded me to pay attention to the good stuff.
How about showing a little love to your employer? What?! The same people who gave you a .05 salary increase this year and laid off your buddies? We are all too quick to go for the negative aspects of working in these tough times. But how about the #1 reason to be grateful – you have a job. Many are not so lucky this season.

Here are some ways to express gratitude to your employer:
* Volunteer for a project that needs done. Maybe it's not an interesting or resume-enhancing one, but it will help out the department.
* Take your boss out to lunch. I don't remember ever picking up the tab when a boss took me out. It was usually a given that it was on the company's tab. Initiate the invite, too, don't just reach for the check.
* Send flowers to your boss or HR rep. Be sure to include a professional note thanking him/her for their support, etc.
* Work extra overtime if necessary without any expectations of acknowledgement or future comp. time.
* When I worked for a hospital, we could donate some of our sick time to co-workers who needed it. I don't know if that is even possible now, but it was a kind and decent policy for a large organization to allow. Ask HR about it or any similar options.
So how have you shown your job/boss you're grateful lately?
This is a post by Nancy LaFever. You can read more from her at the Centre for Emotional Wellbeing blog.