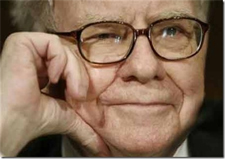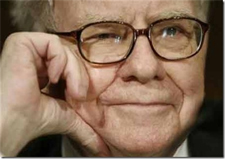 Investor extraordinaire Warren Buffet, with his estimated net worth of $62.0 billion, will be featured on Nightly Business Report tonight as part of the program's 30th anniversary.
While American workers have their collective eye on President Obama, waiting to see how he'll restore the jobs they lost and secure the ones they have, Mr. Buffet might be able to offer a glimpse into the future. Here's a sample of what to expect from the interview tonight. Find your local PBS station.
SUSIE GHARIB, ANCHOR, NIGHTLY BUSINESS REPORT: Are we overly optimistic about what President Obama can do?
WARREN BUFFETT, CHAIRMAN, BERKSHIRE HATHAWAY: Well I think if you think that he can turn things around in a month or three months or six months and there's going to be some magical transformation since he took office on the 20th that can't happen and wouldn't happen. So you don't want to get into Superman-type expectations. On the other hand, I don't think there's anybody better than you could have had; have in the presidency than Barack Obama at this time. He understands economics. He's a very smart guy. He's a cool rational-type thinker. He will work with the right kind of people. So you've got the right person in the operating room, but it doesn't mean the patient is going to leave the hospital tomorrow.
SG: Mr. Buffett, I know that you're close to President Obama, what are you advising him?
WB: Well I'm not advising him really, but if I were I wouldn't be able to talk about it. I am available any time. But he's got all kinds of talent right back there with him in Washington. Plus he's a talent himself so if I never contributed anything for him, fine.
SG: But I know that during the election that you were one of his economic advisors, what were you telling him?
WB: I was telling him business was going to be awful during the election period and that we were coming up in November to a terrible economic scene which would be even worse probably when he got inaugurated. So far I've been either lucky or right on that. But he's got the right ideas. He believes in the same things I believe in. America's best days are ahead and that we've got a great economic machine, its sputtering now. And he believes there could be a more equitable job done in distributing the rewards of this great machine. But he doesn't need my advice on anything.