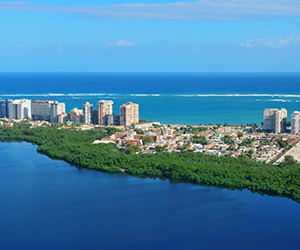 This is a sponsored post written by me on behalf of Puerto Rico. All opinions are 100% mine.
Ready to start a business? That can be the best way to shake yourself out of the doldrums of a ho-hum job and a go-nowhere career. Entrepreneurship can be the path that will lead you to the job of your dreams.
The question is where to do it. Its Happening in Puerto Rico. The state you live in may not have the best tax and regulatory structure to start your own business. That's why it makes sense to think outside the box (and look just a little bit outside the country). The beauty and cultural richness of Puerto Rico creates the ideal environment for investment and business growth.
Business in Puerto Rico is easy. Businesses qualifying under the Act 20 statute get the incentive of a 4% corporate tax rate on export service income as well as 100% tax exemptions on dividends, profit distributions and property taxes. Under Act 22, individual investors enjoy a full exemption on all dividends and interest income and all capital gains.
With favorable business climate like that, there is no reason to bring your capital and talents anywhere else. The island boasts an advanced infrastructure that includes a plan to expand gigabit internet access by 2020, a highly skilled workforce of motivated potential employees and a burgeoning aerospace industry.
And these incentives have the legal status of a contract with the Puerto Rican government, which is then backed with the full force of the United States government. Which means that the investment climate has never been more favorable. To apply for these incentives, check out this post, which will give you a rundown on how and where to submit a web-based application.
And then there is the reality of living on tropical island in the most temperate climates on the globe. Beaches, historic districts and culture are just a few of the attractive elements that make Puerto Rico a wonderful place to live. Golf fanatics can find the course of their dreams among the hundreds on the island.
Those looking to start a family are in luck with the infrastructure. There are high-quality English and bilingual schools all over Puerto Rico, as well as healthcare facilities that up to the same standards as any top-notch hospital in the States.
BusinessinPuertoRico.com has a wealth of information on the advantages of living and starting a business on the island. And the site's YouTube channel has videos explaining why Puerto Rico is an ideal business destination. On Twitter, @businessinpr is a great resource as well.
What do you think of the incentives and lifestyle advantages of Puerto Rico? Does it sound like an excellent climate to invest in? Tell us in the comments.