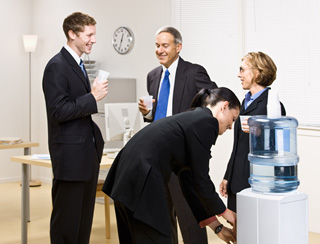 Employees are notoriously off-task during the NCAA basketball tournament. About 50 million employees participate in March Madness office pools, which, according to some sources, can cost companies as much as $1.2 billion in lost productivity during the first week alone. However, a little lost productivity in March could translate into big payoffs down the road. New research suggests that the best way to increase productivity is to encourage your workers to socialize.
Talk Amongst Yourselves. We Mean It.
Ben Waber founded a company called Sociometric Solutions along with some colleagues from the MIT Media Lab's Human Dynamics Laboratory. Waber is an expert in behavioral analytics, and he founded his company to collect data that would explain the ways in which people work.
Sociometric Solutions uses Bluetooth trackers that they call "sociometric badges" to track employee movements throughout the day. The badges can track everything that a boss could possibly want to know about employees: where they go, whom they talk to, and who does most of the talking. Instead of relying on observation, self-reporting, and surveys, sociometric data uses measurable, real-time data to map what employees do during the workday. They discovered some surprising facts about the link between socializing and employee productivity:
Work friends should take breaks together. Letting work friends take breaks together increased group productivity by 20 percent. It also slashed turnover and reduced stress levels for the entire team.
Encourage group lunches. Workers who ate lunch by sharing a table with 11 other people were 36 percent more productive and 30 percent less stressed.
Recognize your productivity catalysts. After talking to certain people in the work environment, other workers completed their tasks 25 percent faster. Waber calls these actions "collisions," and he notes that these productivity starters aren't always people that managers identify as leaders.
Why Does Socializing Help?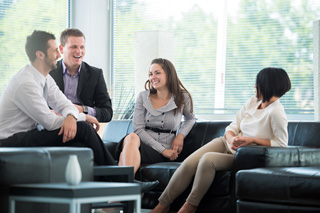 Too many traditional managers have a factory mindset when it comes to worker productivity. They assume that workers have a certain amount of energy to give and that energy levels stay the same throughout all parts of the day. Today's future business managers are learning that productivity isn't about keeping an employee's nose to the grindstone. Employee energy levels rise and fall, and creativity ebbs and flows.
Sleep researcher Nathan Kleitman is an expert in circadian rhythms, which are the natural rhythms of our sleep cycle. He also says that people have ultradian rhythms during the day, which move us from higher to lower levels of alertness. To give our best energy to our work, we need to stay on task for 90-minute intervals and then break for about 20 minutes. In the same way that we cycle in and out of deep sleep, we cycle in and out of productivity.
Kleitman's work is backed by another study from psychologist Anders Ericsson. Ericsson studied the world's top violinists and noticed that they all had similar working patterns. They practiced for about 90 minutes, mostly in the morning, and they took breaks between sessions. Most of the violinists got in about three practice sessions per day, or about 4.5 productive hours. It's not about staying on task for eight straight hours; it's about honoring the brain's natural ultradian cycles.
Group vs. Individual Productivity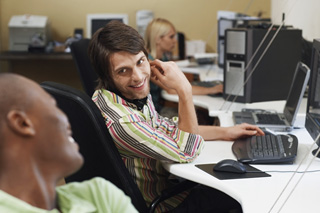 Waber's observation about the people who served as productivity accelerators also included some other fascinating information. The productivity accelerators didn't stand out as leaders, and their individual productivity was no better than average. However, the people who talked to the productivity accelerators reduced the time it took to finish a job by two-thirds. By helping their co-workers become more productive, the accelerators sacrificed their own individual productivity.
Instead of focusing on individual productivity, Waber argues that companies should create bonuses and incentives based on group targets. Also, when giving out promotions, managers have to recognize not only great individual achievers but also the people who make others more productive. Managers should also change workplace cultures that discourage informal communication and collaboration. Instead of forcing workers to keep their heads down, companies should, according to Waber, "build sharing, relationships, and communication into their DNA."
Instead of putting the kibosh on March Madness, managers should encourage a little bracketology. They're not just betting on a game; they're betting on a more productive business future.