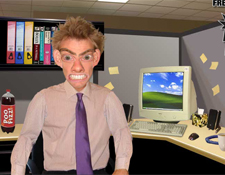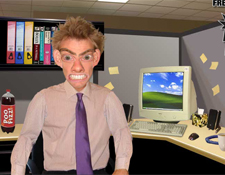 As another month of Jobacle-mania wraps up, here's what's on my mind:
1) Thanks to the ladies at Clearchannel's NewsRadio 740 KTRH in Houston, TX for giving us some love.
2) The time waster of the month has definitely been the Cubicle Freakout Game. How much destruction can you unleash on your cube in the allotted time period?
3) The Working Podcast continues to grow rapidly, especially in Asia!? For some reason we've been getting a nice clip of traffic from qq.com and music.soso. I have no idea what they're saying about us…but thank you…I think! Can anyone translate?
4) An open message to career blogger posers. You know who you are. Download the 90-second rant.
5) According to a recent Vault survey, 89% of employers are interested in viewing video resumes. If that's the case, we think about 88% of them will be disappointed.
While video has swept the Web, we here at Jobacle still feel the video resume has nowhere to go but up. Vault recently wrapped up their Video Resume Makeover Challenge. Entrants had to send in a short essay detailing why they were in need of a video resume. Four winners were treated to a professionally produced video resume, a salon makeover and an expert paper resume review.
Check out the winners.
While the winners look great from an appearance standpoint, they sure do come across as one-dimensional characters. Which proves our point. If these are "professionally" produced video resumes that are considered cream of the crop – the video resume craze will never catch on. Oh, and one of the winning videos is from a guy named Ron Studley. Now that's a name! We'd hire him for that alone.
We don't want to be overly harsh with Vault, since we do think some of the services they provide are better than the competition. But these "winning" resumes still blow.
6) We're announcing a new contest on Monday with a great prize that's gonna be easy to win. Please subscribe now so you don't miss out.