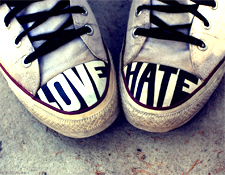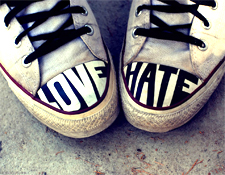 For many people, work is somewhere that they spend a fair proportion of their life. So what do you do if you hate your job? Leaving your job may be an option. However, there are usually some things that you can try before you get to that stage. You may even be able to transform your job into one that you love! Here are some suggestions:
Identify the Problem
Identify what it is that you are unhappy about in your job. You could do this by spending some time writing about your job to get clearer about the issue(s). You could talk it out with a friend or coach. There may be multiple things you don't like about your job, but getting clear about what these are will empower you. When you are unhappy in your job, it is easy to feel that everything is wrong. However, by identifying exactly what you are unhappy about you will be much more able to tackle it.
Focus
What you focus on increases. I know that when you are unhappy in a job it can seem that it is almost impossible to find the good in it, but the more you focus on what you don't like, the more this perpetuates. Try and identify a couple of positive things about your job each day. Comparing your work situation to peoples who are in a worst situation can even help you to feel better about where you are! Focussing on the positives (even if it is just that you have a job in a recession) can help you to feel better in the short term and may even gradually change your feelings about your job.
Be Proactive
What can you do to change your work situation? It can be easy to fall into the role of the victim who hasn't got any control to change things. But we always have a choice about how we react and on closer inspection there is usually a lot more that we can do to help ourselves when we are stuck. Moaning about your job without trying to change it doesn't help you or the people you work with.
Can you confide in your boss or HR personnel and ask for their help in transforming your experience of work? Do you need to report a problem? Many work places offer counselling, coaching or mentoring which can be an invaluable source of support.
Get Involved!
When you are unhappy at work a natural tendency is to withdraw. Although it may be counter intuitive, getting more involved can make a real difference to your experience of work. Could you apply for a course? Or work towards a promotion? Once you have decided to change your experience of work, have a look around and see what opportunities there are for you. Becoming more involved can reignite your interest or even lead you on to new work opportunities in time.
Cut Down Your Hours
Living pay check to pay check, inevitably gives you fewer choices than someone with a financial cushion or less outgoings. Working less may seem like a pipe dream, but in reality good money management can really increase your personal power around your work life and the hours you need to work, which in turn is likely to have a positive impact on your experience of work. For example, if you work out how much you earn in a day and found a way to spend that amount less per week, this could be a tangible way to work one less day per week.
Working less hours also means you pay less tax proportionally and can mean that you don't decrease your income as much as you might first think. There are many benefits to cutting down your hours and you can read more about Kris's experience of doing this.
Transform Yourself
"Things don't change. We change" Henry David Thoreau
If the same situation keeps arising for you, regardless of the job, it is a reminder that there is something for you to learn or overcome. Taking responsibility can be scary but also incredibly empowering and could help you learn a lot about yourself.
Take some time to reflect and see if there is a viewpoint, attitude or behavior that you could change or develop, making a difference to how you approach your work. You may still decide to leave your job at some point but you much is to be gained from overcoming personal patterns or obstacles.
Tools such as meditation and yoga have also been proven to have remarkable benefits on people's levels of happiness at work.
Quit
If you have tried everything, it may be time to move on. Weigh up the pros and cons of your work situation to get clear about your next step.
Have you been able to turn a job that you hate into one you love? I would love to hear about your experience in the comments below.
Bio: Jen Smith is a Life Coach and Mentor living in the UK. She has tried many career paths herself and now helps people achieve their goals and dreams. You can find her at www.jenmsmith.com.