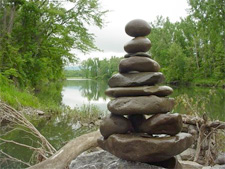 A Different Approach = Different Result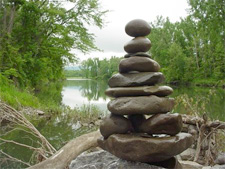 Admittedly, I know very little about Buddhism from a scholarly perspective, but understand a bit about it. (To learn about the basics principles of Buddhism, download the Working Podcast #65.) You hear the words "zen" and "mindfulness" thrown around a lot. For me, those words relate strongly to finding my own inner peace and being aware of the moment.
A recent, unexpected personal event has negatively impacted many aspects of my life. I try not to let it overwhelm me and some days I do better than others. But mostly I try to assess each moment and cut myself some slack if I'm worrying too much about not living up to my own or someone else's expectations. My new meditative phrase is, "It is what it is." Over-thinking and over-analyzing is not mindfulness.
A very insightful patient in my private practice recently shared with me some of his thoughts in this area. He works in an über corporation and is a model employee – hard-working, skilled, organized, intuitive and successful. He knows how to negotiate office politics while maintaining personal and professional integrity, which is not an easy feat these days.
This guy has always enjoyed good relationships with his bosses. But now, he's supervised by one of those upper-level bozos who like to screw with his subordinates. You know the type – just when you think you've figured out what they want, they throw you a curve ball just to keep you off balance. My patient admittedly spends too much time trying to second-guess this boss. In the last session, he surprised me by presenting a different perspective. He has decided to do his best to ignore the boss and get the job done in spite of him. This has freed him to focus more on doing his best work. I was also pleased to hear him talk about getting more balance in his work/personal life and having more fun. I have a feeling he will do well with this mindful, "Zen" approach.

Try taking a few moments and focusing on those things that might be personal and/or professional barriers for you. The only thing you can truly control is your response to them. But try to get out of your own way. Easy for me to say, but I'm working on it.
Related: How to Meditate During Your Commute
This is a post by Nancy LaFever. You can read more from her at the Centre for Emotional Wellbeing blog.