As my career has advanced, I have warmed up to the idea of traveling for work. Where I used to dread it, I now have a more positive outlook. Aside from getting myself excited about seeing a new place, I now look forward to the amenities offers by the hotels where I stay, The Rest Comes Easy. Of course, the fact that my employer pays for everything doesn't hurt either!
Hotels like Country Inns & Suites make being away from home a bit easier. With a plethora of perks that are designed to make you feel welcomed and cozy, business travelers like me can find ways to unwind, while still staying productive and getting my work done. Here are a few of my favorites.
Like any important workday, it all starts with a solid breakfast.  Country Inns & Suites' complimentary, hot "Be Our Guest Breakfast," served on real plates and bowls (like at home!), gives guests a variety of choices. Whether you load up on a breakfast burrito or build-your-own omelets, the rotating selection of items keeps things interesting for each day you are away.
Too busy to sit down for a proper meal? No problem! On days when the boss is being extra demanding you can opt from a variety of "grab and go" options.
Now I'll let you in on my biggest key for a successful business trip. It's all in the exercise! Instead of letting my body succumb to the lethargy of endless meetings, I make it my business to hit the hotel gym.  Every Country Inns & Suites houses a state-of-the-art fitness center, letting guests burst a sweat and release those much needed endorphins. If you're not feeling the gym thing, why not hit the pool for some early morning cardio?
With most of my work done on my Chromebook, I need constant access to the Internet to access and create Google Docs and take meeting notes on Evernote. Free Wi-Fi ensures that I am connected. The best part is that it doesn't matter if it is business or pleasure, that solid connection is available at every Country Inns & Suites location.
An added bonus is a recent partnership with Penguin Random House. This new program enables guests to borrow a wide selection of books and return them at their leisure. I've always appreciated this library-like amenity when cruising. And if the latest best-selling novel isn't your thing, enjoy the daily complimentary weekday newspaper.
We all know how work conferences can drain you. So next time, if you're staying at a Country Inns & Suites, be sure to grab a handful of those delicious cookies in the lobby and keep that blood sugar up! Also, take advantage of the microwave and/or fridge that many rooms come with. These kitchen amenities can be a lifesaver for road warriors who are looking to optimize their work time on the go.
When you travel for work, do you stay at Country Inns & Suites? If so, do you take advantage of the Double the Fun promotion where you can double your airline rewards with select carriers? Book Now!
Don't forget that when you are traveling for work it is essential to "steal" a few minutes for yourself. I recently stepped outside from a conference in Baltimore to get some air. While the view was quite pedestrian, the air and the flowers were just enough to help me push through.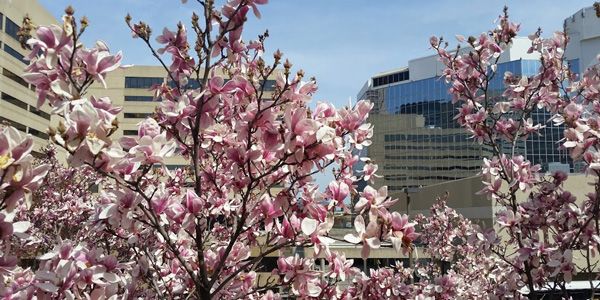 #RestComesEasy
This is a sponsored post written by me on behalf of Country Inns & Suites By Carlson. All opinions are 100% mine.