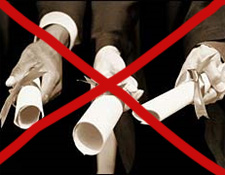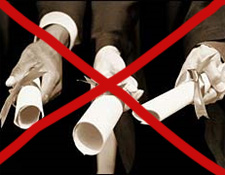 We all want to believe that once we graduate from college, we'll be inundated with job offers and automatically make a great living doing exactly what we want. Okay, it's a bit far-fetched, but even if you're fairly grounded in reality, you still want a job that suits your talents and sensibilities. But how do you know if your chosen field is going to pay off or put you in the poorhouse? Well, you really can't go wrong with a degree in business, medicine, or law, and even a market flooded with tech-savvy computer specialists can be lucrative for someone who's willing to hustle for freelance work. However, if your area of study lies outside the norm, you may find yourself swimming upstream. So read on to find the tip five college degrees that will not only slow you down, but may stop you in your tracks.
1. Botany – this is the science of plants. While a degree in this field could lead to certain high-paying jobs (seeking a cure for cancer?), it is not very likely. The number of positions that cater to an individual with this degree are not only few and far between, but will almost certainly require travel. Further, jobs for botanists are likely to be offered on a contract basis for specific projects, so there is little job security. You could end up cataloging seeds for six months in the desert or studying phloem in a lab for the next three years. You just never know. So if you like plants, buy a fern and opt for a degree in business.
2. Fine Arts – while we can't all be Picasso, there are certainly people in the art world with real talent who can make a living at it. The thing is, you don't necessarily need a degree to do it. If you've got a portfolio and you plan to work freelance, you can probably shop around for jobs without wasting your time and money on a college degree.
3. Veterinary Medicine – granted, you can certainly find jobs with this specialized degree, but in terms of return on investment, you're better off going into a human-related field of medicine. You'll pay almost as much for schooling, but receive a lower salary than other medical fields. Of course, if you love animals, you may enjoy a different kind of payoff, but if you're in it for the money, learn to heal people.
4. Graphic Design – a good degree gone bad. While there are a surprising number of jobs available for graphic designers, this is the wrong time to be looking. Do you remember about 10 years ago when colleges were soliciting to find students for this growing field? Well, it's now flooded with graduates who can't find work. If you don't have a stellar resumé and portfolio, you can pretty much forget it. The problem is that this is a creative degree in a technical field, so employers looking to cut costs will most likely get the IT guy to do double duty on the website, rather than hiring an artist.
5. A degree from Clown College – this is no laughing matter. Tuition costs could rival those of state colleges (although time to attain a degree is significantly less). But where will you work when you're done? Travelling circuses have gone the way of the dodo, so only the largest (namely Ringling Bros.) survived, and they are going to be pretty selective when it comes to performers. More likely, you'll find yourself creeping out kids at a local farmer's market and pimping out balloon animals to make a few measly dollars. Sure, you get to squirt passers-by with your boutonniere, and you'll never run out of hankies, but is it really worth the humiliation? If your wish is to make kids happy, go work at Build-a-Bear or get a job in a candy store.
This is a guest post by Sarah Harris of Zen College Life where you can browse online degrees and locate the best nursing schools.