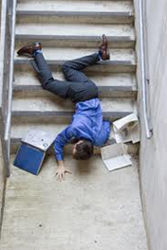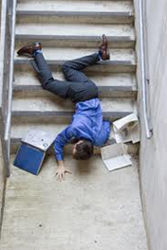 Clumsy people have continued to spark laughter and lighten up the workplace for years. Both the clumsy employee and the onlookers need a good laugh to break up the day. After all, who wouldn't want a little bit of comic relief? The answer: small business owners. For small businesses, clumsiness is more expensive (and nerve-racking) than it is funny. Small mishaps occur day to day, but one slip and a small mishap can turn into a serious injury.
According to The Bureau of Labor Statistics, nearly 3.1 million people in the US suffered a non-fatal workplace injury or illness last year, which equates to about 3.5 cases per 100 full-time workers. Industries such as construction and healthcare account for the largest majority, but accidents can (and do) happen in every industry. For this reason, companies are required to carry workers' compensation insurance.
Workers Compensation Insurance 101
For those who are unfamiliar, workers' compensation laws are set in place to make sure an employee injured at work will receive compensation to replace lost wages and medical expenses.
Although each state differs when it comes to compensation fees, all states provide some form of the following benefits:
•    Medical – This includes travel expenses, hospital stays, and physical therapy.
•    Lost wages – All time off work will be paid if an employee is considered temporarily or permanently disabled.
•    Vocational Rehabilitation – If an employee is unable to return to work in his/her original field then he/she will be placed to work in another field.
If you're thinking that your business is full of sturdy, strong, will-never-fall-down type people, think again. The Bureau of Labor Statistics stated that "private industry employers spent an average of $28.13 per hour worked for employee compensation in June 2011 alone." You will likely find that one of the top 5 workers compensation claims could happen in your workplace; making workers compensation insurance very important:
Top 5 Workers Compensation Claims
1.    Trips and Slips – If an employee trips or slips, a fall is sure to follow. Many times a fall can lead to a sprain, pulling a muscle, stitches, a fracture, or a full-on break. This is usually caused by slippery and/or damaged floors as well as debris on the floor.
2.    Handling Injuries—These injuries include lifting, pushing, lowering, and carrying. In general, an employee will hurt his/her back or damage tissues surrounding the muscle. Sometimes it's difficult to know how heavy something will be until it's too late, making this injury quite common.
3.    Vehicle Accidents—According to Workers-Comp-News, automobile accidents are the leading cause of workplace fatalities in the US. While truck drivers are at the highest risk for this type of injury, many are surprised to find that anyone driving to work is eligible for workers' compensation if they get in an accident. Damages to the car would not be covered, but any injuries to the individual will likely be covered through workers' compensation.
4.    Electricity Hazards—Electricians are not the only ones who suffer from electrical injuries. If there is ever water near an outlet or an exposed circuit, an employee can easily get zapped, shocked, or even burned. This can not only cause injury amongst employees, but can become a fatal disaster.
5.    Equipment Mistakes—Construction is considered by most researches to be the most dangerous profession in the United States because there are so many equipment hazards. When used correctly this equipment makes the work easier and more efficient. However, one wrong step and you're looking at a serious injury. This is seen in any industry forced to work with heavy and/or complex machines.
How to Prevent Workplace Injuries
The important thing to realize is that most of these claims could have been prevented. According to Workers-Comp-News, The California State University at Fullerton found that only 4 percent of injuries that occur each year are due to technical issues or faulty equipment.
Take time to look around your workplace for hazards such as exposed wires, slippery floors and sharp objects. Also consider having a meeting with your staff to discuss workplace safety and brainstorm ideas to help make the workplace a safer place. Your clumsy employees will thank you someday.