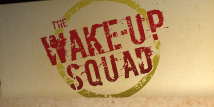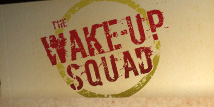 I never pay attention to advertisments, EVER. But when I recently heard a radio ad that asked if I suffered from "Shift Work Disorder," it grabbed my attention.
The voice asked: "Sleepy during work?" "Trouble sleeping when you should?"
It had to be a joke, right?
So I made the leap. I got home and punched the URL into my browser, expecting it to be a viral campaign for one of those SimplyHotMonsterBuilder job boards or some caffeinated energy drink. Who else would set up a group called The Wake-Up Squad?
Lo and behold, SWD is a real disorder, at least according to Cephalon, a drug company hawking its FDA-approved prescription medicine NUVIGIL. Designed to "improve your wakefulness throughout the day," the meds come along with the usual myriad of scary warnings; possible hallucinations, psychosis, mania, thoughts of suicide, aggression, and even trouble sleeping!
Apparently when you work odd hours, and change the times you sleep, you throw off your circadian rhythm, a 24-hour cycle in the biochemical, physiological, and/or behavioural processes of a living entity.
In case you are not sure if your job includes shift work (duh!), the Website is kind enough to list off several professions with wacky hours: security guard, radio DJ, firefighter, chef, IT support manager, etc.
I am honestly not familiar with the effect shift work can have on your life. I've worked some weird hours in my life, and my body was always able to adjust. The whole thing just rubs me the wrong way. I recognize that medicine is big business, but when the ads sound carefree and fun, and even the Website is going for "The Office' vibe, I can't help but think it's all one big suggestive thought to convince people they have something that's either always been there or isn't a problem at all.
But I am not a doctor, and maybe somewhere tonight at 3am, shift workers around the world will feel productive and refreshed thanks to a dose of pills.
Read more for yourself and voice your opinion below. I've signed up for my free Shift Work Disorder Self-Assessment Tool, so I'll keep you posted!