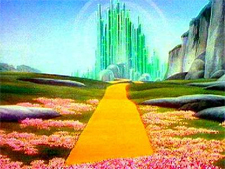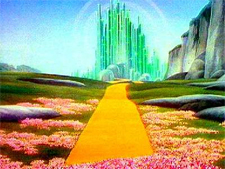 If you're like me, you can still fondly recall the first time you saw The Wizard of Oz. It was a masterpiece in its own time, and it is still seen by pretty much every child ever since. When someone mentions a scarecrow, a witch, or red slippers, your mind may drift back to the comforts of that old classic. However, you probably don't want to follow the pattern of the Wizard of Oz in your career.

Traveling Companions
In the movie, Dorothy had a slew of traveling companions to "help" her on her way. They included a brainless dunce, a heartless brute, and a spineless wimp. In fact, the one with the least faults was Toto! If you surround yourself with brainless, heartless, and spineless people, then you're going to have trouble succeeding. Find someone with courage, compassion, and competence to mentor you, and you won't be attacked by flying monkeys. I promise.
Yellow Brick Road
The Munchkins pointed Dorothy along the Yellow Brick Road early on as a way to find her way. Throughout the entire movie, no matter how bad things were, she could always just get on that path and continue towards her goal. If you're like most of us, then your career path isn't going to be quite so easy to figure out. In fact, studies show that most people end up working in a different job from their college major, and the majority of employees will change careers up to five times in their working lives! Planning ahead is definitely worth the effort, because without direction and purpose, you may find yourself a dozen years down the road, sitting in a poppy field and wondering what's happening.
Clicking Heels
In the end, all Dorothy had to do was click her heels to fix the situation. If you plan on doing that whenever the going gets tough, then you're going to be sorely disappointed. I've spoken before about how I take on obstacles, and while it required special footwear, it was something else entirely that forced me to reach my goal–determination. Decide that you're going to ignore the negative news and push onward in your life. And if you're wearing ruby slippers, please do it for a good cause (like the Red Shoe Project).