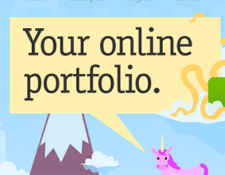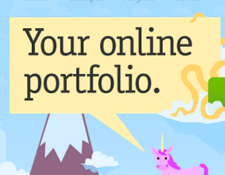 While it may be tempting to send out bulk resume emails to prospective employers, this rarely helps your job search. While résumés are still very effective, it may be hard for writers, designers, web developers and IT specialists to showcase the full body of their work on a single-page, double-spaced CV. It's also important to realize that in today's market, you need as many self-promotional avenues as possible. A personal portfolio site will serve as another way to get your name out there. For professions like web design and copywriting, you're doing yourself a major disservice by not having a portfolio site in place that details your career highlights and accomplishments and great detail.
Nuts & Bolts: Building Your New Site
While it may be tempting to go out and register a Blogger account and call it a day, this may not cut it. A dedicated dot-com address adds an air of professionalism. It communicates that you are invested enough into your career that you will spend time and money cultivating your web presence.
Register Your Domain – As mentioned earlier, registering a dot-com address shows that you take yourself and your career seriously. This is true even if your domain is something simple like your first and last name. The point is to establish your online identity in a way that makes you easily found on search engines.
Find a Hosting Provider – This is the part where you can let go of some ownership. Some working professionals new to the web design space jump the gun on hosting by purchasing GBs of bandwidth that they won't need, and may never use. Cloud-based hosting providers allow you the option to pay only for what you use. Additionally, you can have access to your site's content wherever you're connected to the Internet. The important thing to consider here is that portfolio websites usually don't generate a bunch of inbound traffic. Or, at least not enough to warrant massive amounts of bandwidth.
Choose a Content Management System – A Content Management System (CMS) is exactly what it sounds like – a tool for managing your website's content. However, choosing the right CMS for your needs may not be easy. There is no shortage of CMS platforms for you to choose from. Odds are you'll need to stick to something simple with a very shallow learning curve.
Build Your site – If you're already a web designer or developer, then you probably have this one in the bag. However, for those who view web design as a foreign language, you're probably going to need a little extra help. In many cases – though this definitely not always – this involves hiring a web designer. For more DIY-minded professionals, you may want to look into some design tutorials. There are also plenty of what-you-see-is-what-you-get (WYSIWYG) design platforms out there that essentially let you drag and drop design elements into your site's design.
Final thoughts
When you approach your website's design, it's important to strike a balance of simplicity and quality. This often depends on the type of work you're promoting. If you're a web designer, feel free to go overboard as you show off some of your most creative work. For writers and editors, site visitors are simply there to read content. Make your content accessible and easy to read. As a rule of thumb, build a site you would like to visit.