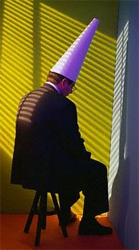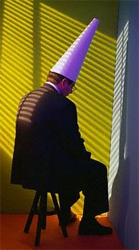 This could be painful for some of you, but I'd like to ask you to think back to grade school. Think about most of the teachers and how they would single out one kid behaving badly and then threaten to punish the entire class. Unfortunately, this is a poor practice that is running rampant at the workplace. Whether it's a product of fear or laziness – I don't know. But what I do know, as one of the "good" kids, it sucks to be punished for the actions of others.
What ever happened to the merit system?
They tell us it still exists but I happen to think that's a bunch of bullsh**.
Ten vacation days. Five sick days. And the same lousy rules for everyone.
Why are we all treated as equals when clearly some of us have earned more than others.
Don't get me wrong. The office is also afflicted with a serious case of self-entitlementitis. However, there's a difference between those who EARN and those who feel they DESERVE.
THE EXCUSE: "If I do it for you, I have to do it for everyone."
So not true.
I'll never forget when a former boss of mine expressed zero sympathy when I was going through a brief personal experience. As someone who worked hard under this individual's tutelage, and had been a loyal soldier, I was very surprised when this "goody-two shoes" had to "stick to the rules." Forget being flexible – how about being human!?
I'm not crying for corporate anarchy; I understand that there HAS to be rules and they HAVE to be enforced. However, employers need to start understanding that when they punish good workers, they are only cutting their nose to spite their face. Just ask Eric.
At my current gig, we are constantly being threatened (all of us, as a group) that our hours will be permanently changed if people continue to roll in late. Of course, the ones who are late are the usual suspects. Why not single them out and punish them on an individual basis? Employers are running scared and that's just sad. You should be hired, promoted and compensated based on your actions and accomplishments – nothing more, nothing less.
As far as self-entitlement goes, I truly believe we are all guilty at some point.. especially at work. Here are some warning signs to determine if you're guilty. If you say or think:
"Everybody else is…"
"They all have…"
"If you really loved me…"
"It's just my bad luck…"
You always want more. It's never enough. Well guess what: this is the same mentality of a child who eats every drop of candy (without sharing!) and then becomes sick as a dog.
Here's the cure. Say to yourself:
"The world owes me nothing, I owe the world."
or
"I deserve success and all of life's good things – and so does everybody else."
If that's "too Buddhist" for you – then let's site a non-spirtual source. How about Seinfeld's law of "even Steven?" It's simple: find a dollar on the floor and you're bound to lose a dollar somewhere along the way. Much of life is a complete wash, so don't get bent out of shape on what you didn't get or what you were passed over for.
A recent example of widespread self-entitlement that I have witnessed has been in the real estate market. Home prices have dropped across the board. But guess what: you are NOT owed the old price. Get over it and flow with the market – you can't control it!
To put it in career terms. If your new job only gives you 10 vacation days – but your old job gave you 20 – it might be for a reason. Think big picture. This new company doesn't owe you those days just because you had them before. Nor do they deserve to be punished by you. For example, slacking off to "get them back" for the days they "robbed" you of.
Nobody likes a victim, especially at work.