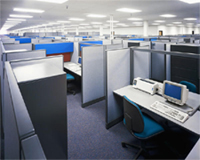 Don't kid yourself, it IS getting smaller…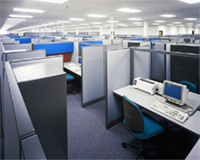 Okay, better and funnier minds than mine (Scott Adam's Dilbert et al) excel at lampooning cubicle culture. But a recent Wall Street Journal article, Office Personal Space Is Crowded Out, by Sarah E. Needleman addresses the actual shrinking of the cubicle space and what that means for the workforce.
Needleman gives an example from an interior design group that is creating new work areas that are now 48 sq. ft., down from 64 sq. ft. five years ago. When I mentioned that to my husband, he said the 48 sq. ft. actually sounded roomier than his current space. I'm sure a number of very practical reasons go into these decreases; companies needing to cut costs during the recession, elimination of space for employees who work mostly away from the office or adapting to a more open floor plan.

The article also mentions the lowering of cubicle partitions. Hubby's used to be around 5½ ft. high and now is closer to 4 ft. Supposedly, that promotes more "staff interaction." What I've always thought it promoted was way too much information sharing, like overhearing your co-worker yell at her kid in the cubicle version of an "inside voice." So workers' privacy is non-existent and the noise level makes it much harder to concentrate. (I've only had one job where I worked in a cube and I recall the company bought the good stuff with insulation and sound barriers in mind. In this economic climate, I imagine quality of product isn't a priority.)
But let's talk about the really critical aspects of this loss of personal space and privacy. Smaller, shorter cubes are going to severely affect your personal phone call, Solitaire playing and online shopping experience! And we all know that isn't good for employee morale.
This is a post by Nancy LaFever. You can read more from her at the Centre for Emotional Wellbeing blog.