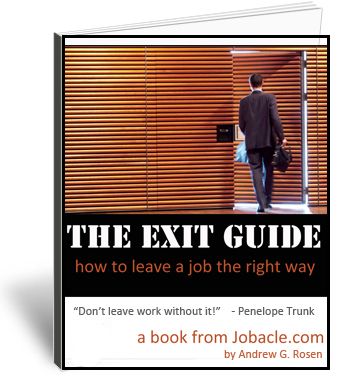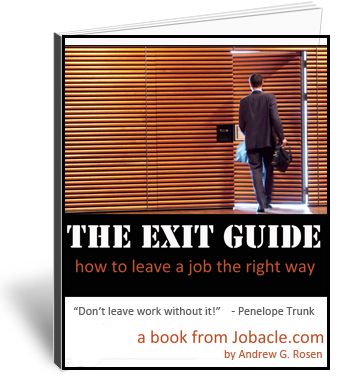 Need a resignation letter sample?
Want to learn how to write a reference letter?
Looking for the perfect letter of recommendation template?
This is how to resign!
The way you leave a job is just as important as how you get a job. This oft-overlooked piece of career advice is finally getting the attention it deserves.
It is with great excitement I announce the release of the first book from Jobacle.com – THE EXIT GUIDE: How to Leave a Job the Right Way.
How many people do you know who have worked a single job in their lifetime? It simply doesn't happen. After spending the past five years talking with the world's top career coaches, authors and HR leaders, a void became apparent. Everyone is so hung up on getting a job, that they overlook leaving one.
Going through the motions is not enough. It is key to protect yourself and carry out several important tasks before you say goodbye. The Exit Guide will show you how.
Jam-packed with tips, tricks and templates, the book is easy to read, guaranteed to make your final two weeks at any gig a little more manageable.
The first 100 readers to order can use discount code EXIT to get the eBook for only $4!
The few people we've given the chance to preview it are all in aggreement, 'It rocks!'

"If you're thinking of leaving your job, The Exit Guide will help you cover all the bases. Don't leave work without it!" – Penelope Trunk, Founder, Brazen Careerist

"This book is a MUST-READ if you want to keep your reputation intact and ensure you'll be able to take advantage of new opportunities in the future." – J.T. O'Donnell, Nationally Syndicated Career Expert & Author of CAREEREALISM: The Smart Approach to A Satisfying Career

"Quit with style, class and forethought. The Exit Guide is your best resource and will give you tips every step along the way." – Alexander Kjerulf, Chief Happiness Officer and author of "Happy Hour is 9 to 5"

"Finally, a reference tool for all of us who are leaving our jobs. Too many people make crucial mistakes in the excitement of either moving up for a new job or the disappointment in leaving the company…this book will help keep the emotions out of it. It is an important subject long ignored by career experts. Not any longer." – G.L. Hoffman, Author

"Buy two, one for you and one for a friend. They'll thank you for it!" – Ben Eubanks, HR blogger and founder of UpstartHR
Thank you in advance to all of the loyal Jobacle readers who will purchase a copy and help spread the word. Fellow bloggers can even earn a commission. Buy The Exit Guide today, I guarantee it will help take some of the stress out of your final two weeks at any gig!