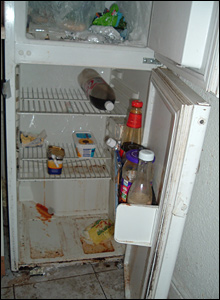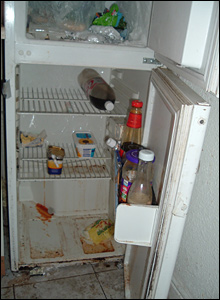 The stench was horrendous.
As everyone walked through the office door, they couldn't help but comment.
"Ewwwwww, what is that?"
After searching for dead animals and rummaging through garbage cans, we finally found the culprit: the refrigerator. Specifically, someone's two-week-old Chinese leftovers.
In typical corporate fashion, a call was placed to the janitorial department to take care of the problem. One day and several sprays of Windex later, the cleaners deemed the problem solved.
Guess what happened the following week…
The smell returned.
Now I'm a fairly patient person but I do reach a point where I don't look back and take matters into my own hands.
The next day I arrived at work 30 minutes early with a bucket and heavy-duty cleaning supplies in tow. I rolled up my shirt sleeves and made the fridge look – and smell – as good as new.
As my officemates began to trickle in they all took notice of the fridge.
Word began to spread that I had taken care of the problem. Most people were happy. My boss was not.
"We have people to clean," he remarked. "Are you going to stay late and make up the time you wasted?"
What he doesn't realize is that by cleaning the fridge I directly, and indirectly, accomplished several important things.
– I proved I am a problem solver who is willing to take initiative.
– I showed my staff that there is no task beneath me.
– The act was genuinely appreciated by my coworkers and elevated my "nice guy" status.
– I improved working conditions for both myself and my colleagues.
Rather than sit back and be frustrated over the inept cleaning staff, and be distracted by a smelly office, I decided to take action.
There's a "fridge" that needs to be cleaned at your office. What are you waiting for?