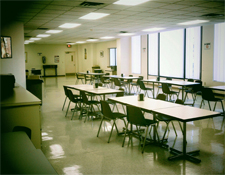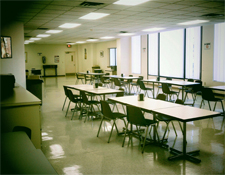 The cherished workplace break room: a place to escape from challenging projects and catch up with co-workers over a fresh pot of coffee. However, while the break room can serve as a workplace safe haven, it can also be the site of fierce co-worker battles regarding proper etiquette. If break room wars are currently brewing in your office, here are 5 rules to consider implementing to keep the peace.
– If you empty it, replace it – Each morning in workplaces across America, the rush to the break room coffee pot begins. Many a coffee fiend's days have been ruined by going to fill a cup with the break room coffee pot only to discover a single drop remains. When someone uses the last of something in the break room, they must be expected to replace it as a courtesy to their co-workers. Whether coffee, sugar or other shared items regularly run short in your office, end the frustrations by implementing this rule. (Related: Coffee Banned From Office?)
– Clean up your messes – In a recent OfficeTeam survey, 44 percent of respondents cited leaving messes for others to clean as the most annoying break room habit. Although employees may spend more time at work than at home, the workplace is not a home environment. If someone makes a mess either by spilling a drink or by leaving lunch crumbs, they should be required to clean it up.
Don't steal food – If you've ever brought a delectable snack to work, saving it for your afternoon break only to discover its remnants in the break room sink, you know how frustrating this situation can be. The stealing of food can lead to heated accusations and rampant suspicions between co-workers. These theft situations can be avoided by requiring employees to clearly label their food and ask for permission before taking a co-worker's break room goodies.
Remove food promptly – While food may remain for months in the home refrigerators of co-workers, this can't be allowed in business break rooms. Not only is spoiled food unsanitary, it emits foul odors that can ruin a break room's atmosphere. Enforce a strict daily or weekly removal of employee food items to avoid the spoiled food nastiness.
· Avoid gossip – The break room is a location to escape workplace demands and enjoy a nice lunch or afternoon snack. However, few things can ruin that break more quickly than being trapped in the break room with co-workers who insist on gossiping about others in the workplace. By enforcing a strict no gossiping rule, you'll ensure the break room remains a temporary place to escape workplace stress.
While some break room rules may seem like common sense, never assume all co-workers were raised in a similar fashion as you. The best way to keep break room peace and ensure this area remains a treasured workplace location is to create rules and ensure each employee understands them. By posting the rules and enforcing them, fewer battles will occur, resulting in a more harmonious work environment.
Author Bio: Shayla Ebsen is a full-time freelance writer and graphic designer with more than seven years combined experience from her time in the corporate world and through her freelance work. Shayla's education includes a Bachelor of Arts degree in News/Editorial Journalism from South Dakota State University and a Master of Arts degree in Communication Studies with an emphasis in Organizational Communication from the University of South Dakota. Learn more about Shayla and her services at shaylaebsen.com.