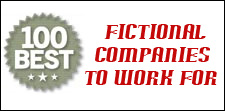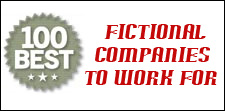 FORTUNE Magazine has done it again. They've "wowed" us with their "100 Best Companies to Work For: 2008"
Are YOU jealous?
Don't be. Even Google has gotta have a crappy, passive-aggressive, nightmare-of-a-boss. Or stinky people who don't understand the concept of personal space. Or, dare I say it, the potential for layoffs.
America loves this list. They'll spend weeks Googling it. Personally, I don't get it. A truly great place to work lives in your head more than anywhere else. So, here's a list of our own: Jobacle's 100 Best FICTIONAL Companies to Work For. Since they're not real companies, work can't suck as bad!
Help us complete the list! Please leave a comment below with the fictional company you'd wanna work for and why. We'll complete the list and go through your picks on a future episode of the Working Podcast. Please subscribe!
100 Best FICTIONAL Places to Work (once you help us finish it…)
Arcade Flower Shop, Three's Company: Never any misunderstandings.
Madam Malkin's Robes for All Occasions, Harry Potter: Diagon Alley's finest.
Victoria's Circuit, Futurama: Lingerie for robots. Hot!
33¢ Store, The Simpsons: No employee discount.
El Banco Corrupto, Grand Theft Auto: Vice City: Fill your pockets.
Silver Shamrock, Halloween III: Free masks (and snakes!)
Stay Puft Corporation, Ghostbusters: Marshmallow madness.
Wonka Industries, Charlie: Take home a oompah loompah!
Blue Moon Detective Agency, Moonlighting: Old actors at their hottest.
The Foundation, Knight Rider: Your office is a truck. Your cube is a car.
Macmillan Toys, Big: Damn Zultan!
The Reef, SpongeBob SquarePants: Movies, popcorn,Goobers – oh my!
Merrick BioTech, The Island: Clones of Scarlett and Jude? Say no more.
The Peach Pit, 90210: Nat. And free blueberry pie.
The Korova Milkbar, A Clockwork Orange: Great scenery.
Paper Street Soap Company, Fight Club: No direct deposit.
Mel's Diner, Mel's Diner: Free cherry pie.
Dunder Miflin, The Office: Oh, the comedy.
The Everything Store, I Heart Huckabees: Discounts on everything.
Rodbell's, Roseanne: Free apple pie.
Rex Kwan Do, Napoleon Dynamite: Vote for Jobacle!
The Fairly Oddparents, Wall to Wall Mart: Ah, walls.
Vitameatavegamin, I Love Lucy: A happy cure-all.
Bushwood Country Club, Caddyshack: Everyday is Groundhog's Day.
Consumer Recreation Services, The Game: Challenging and fun.
The Rusty Anchor, Golden Girls: I'd work there for the ladies.
IPS (International Parcel Services), King of Queens: What can crown do for you?
Pendant Publishing, Seinfeld: Kick Piederman in the nads.
Lacuna Inc., Eternal Sunshine: F with their minds.
H.A.L. Labs, 2001: A Space Odyssey: Damn Heuristically programmed ALgorithmic computers!
Life Extension, Vanilla Sky: Open your eyes.
Rekall, Inc., Total Recall: Quaid!
Bluehound Bus Line, Dilbert
Atlantic American Airlines, Meet the Parents: Chopsticks in your hair are optional.
KACL, Frasier: I'm listening…
Flingers, Office Space: Flair!
Burrito Explosion, Mr. Meaty: Cooler then Soy What?
Fatso's, The Wonder Years: A Drive-In that calls it like it sees it.
The Max, Saved by the Bell: Always open, never crowded.
McDowell's, Coming to America: The original Mickey D's.
Bada Bing, Sopranos: Boobalicious.
Wu-Tang Financial, Chappelle's Show: High-yield finds!
Wally World, National Lampoon's Vacation: They're always closed.
The Dharma Initiative, Lost: Who are these people?
The Leftorium, The Simpsons: Argh! I'm right-handed.
Edna's Edibles. Facts of Life: God bless Mrs. Garrett.
Daily Planet, Superman: Unlimited sick days.
21 Jump Street, 21 Jump Street: Back to school.
The Enterprise, Star Trek: Beam me up.
Powell Family, Charles in Charge: Professional babysitter.
Central Perk, Friends: Except for Gunther
Night Court, Night Court: Late hours.
Arnold's Drive-In, Happy Days: Fonz rules!
WKRP, WKRP in Cincinnati: Venus Flytrap foreva.
Moe's Tavern, The Simpsons: Hi, is I.P. Daily there?
Lomax Industries, Weekend at Bernie's: The boss is dead!
Hudsucker Industries, Hudsicker Proxy: From the mailroom to the top.
Please subscribe to our blog and have a great day at work!