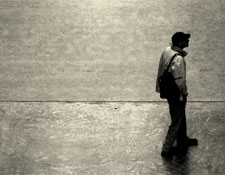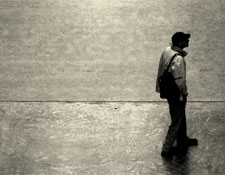 Recently, Victor Kipling wrote a Cubicle Continuum column on "The Death of the Office"

"Under the guise of wanting to increase 'transparency,' the new organizational trend-setters are touting the benefits of the horizontal work space…that is, the cubicle and (worse yet) the bullpen. From the lowest clerk to the highest CEO, everyone is now expected to march in lockstep and function in an open, non-private environment."
When I first entered the workforce in the late 90s, I foolishly had the notion that success was gauged by the pay you earned, the title you floated and the size of your office.
As a kid going to work with dad always left me impressed. The helpful secretary, the "reserved" parking space, and yes, the office. A BIG office. The kind I will likely never have in my entire life (unless I build it myself). And don't all kids strive to be more "successful" than their parents?
A recent article, Collaboration Cancels the Cubicle Culture, spoke about how corporate bigwigs like Cisco, Intel and Sun Microsystems are spending boku bucks to blow out the cubicle.
First they ditched the office. Now they ditch the cube.
You're probably asking yourself, 'where the heck do they expect me to work?"
The answer is everywhere. And that just sucks.
If the rest of corporate America takes its cue from Silicon Valley bigs, the notion of personal space at work will be completely eradicated. The reasons (according to 'workspace experts') are as follows:
– Greater worker efficiency
– Encourages collaboration
– Corporations can fit more workers
"Cubes have had their day," says Michael Joroff, senior lecturer at the Massachusetts Institute of Technology's School of Architecture and Planning. "They were established at a time when work was done head down, by yourself. More and more, work is collaborative."
I'm not dumb enough to think I can win a debate with these massively educated blowhards. As is often the case with these analytical types, most of whom have never spent any substantial period of time in a bullpen setting, they are missing a key ingredient from their research: A human perspective.
Simple psychology tells me that these "open" and "collaborative" work spaces will do little more then get co-workers to dislike one another at an even faster pace. Here's why I believe collaborative work environments will NOT work.
* We want an approachable boss, not one sitting next to us. Even if it's not their intention to eavesdrop, they will be in earshot of things that make work – work! The stupid e-mail forwards, the holiday party gossip, and rants against The Man. We're not saying these are all healthy things, but in moderation, they are essential.
* We hate cubes but need something to call our own. If there's no cubicle or desk, that means there's not office supplies, etc. Now we can't even feel good that we have a better stapler than Joe down the hall. Ownership is built into the American way, unless everyone becomes a Buddhist, good luck finding the cure.
* Even stand in line and feel the person behind you standing too close? Imagine that happening at work while you try to work. Or what about the day you come in with a raging headache or sour stomach? Do you really need to be on display for the office to see? Whether it's a desk, an office or a vacation, everyone needs a getaway. Personal space is precious and the collaborative environment is one big violation.
* We're not all equal. Some are leaders and some are followers. Some people are trained to make decisions; others are trained to execute them. Let's stop pretending that we all should be twins. Plus, even within the same department (which is how workers are often divided at the office), people are expected to perform different tasks requiring different levels of concentration. As an editor sitting next to a live receptionist, I speak from experience.
* The true gain is for the company – not the worker. Yes, initially it will cost companies a lot of money to convert existing work areas. However, when more bodies are fit into the same amount of square footage, organizations rarely provide more amenities. Will they add more bathrooms? Pump up the cooling system? Probably not. This means more wear and tear on things you need to make work comfortable, resulting in a poorer experience for the average worker.
How can our individual needs be met if everyone is treated the same? From the amount of work space we each need to the material our chairs are made out of, we all have different preferences. The lowest-common-denominator solution benefits by management by keeping things simple and allowing them to minimize their bottom line.
* Time in the office is now perceived as "weak" when you could be out networking, collaboration and/or <insert other buzz verb here>. I'm willing to bet that some of the most amazing business accomplishments have been achieved in an office. Yes, there are stories of genius ideas born in the shower and handshake deals at the airport, but the vast majority still occur behind a closed office door.
Fast food restaurants allegedly spend millions on research to make sure you are perfectly uncomfortable when dining in. The goal is to get you to chow down and move along. Do we really want our workplace – where we spend a ridiculous amount of out lives – to follow suit?
* People are rude and strange. That's not including the chronic foot tappers, the temperaturely-challenged who are always cold and the folks nuking fish sandwiches and eating them at their desks.
Actually, now they'd be eating them at YOUR desk. EVERYONE's desk.
* Every successful team needs an "enemy." Some kind of motivating force to fuel the fire of desire. Ideally this would be an outside firm – but often these rifts occur internally. While responsible for plenty of junk, tension also forces people to rise to the occasion. If everything was harmonious, this naturally occurring phenomenon would never come to fruition – and the organization loses out.
There's a time and place for collaboration. But there's also a time and place to just put your head down and get the job done – alone. We have some thoughts on a potential middle ground which we'll share in an upcoming blog entry (please subscribe). In the meantime let's collaborate independently! What are your thoughts?
In a perfect world a collaborative work space where no one has ownership of anything would be the solution. The problem is that we are not monastic monks. We're living in a push-push world where the daily grind takes its toll on even the most positive people.
Remember: It's not the size of the office…it's how you use it.