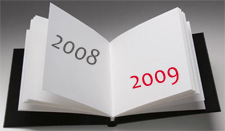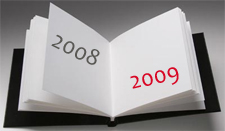 We're celebrating another year in the books here at Jobacle HQ. After a record number of Working Podcast downloads, and growth in virtually every traffic category, we wanted to take a time out and thank our loyal readers and listeners.
What I value most are the relationships that have spawned and opportunities that were born. We've made it onto the radar for all of those HotMonsterBuilder sites, thanks to YOU!
Jobacle is a labor of love. Even though I was promoted earlier in the year, I continue to find the time to build Jobacle. We plan to continue to dish out contrarian career advice, bring you the latest employment news and review everything Career 2.0. We have BIG plans for 2009, and invite you along for the ride. Subscribe to the blog and the podcast today!
We'll be back with fresh posts in a few days. In the meantime, why not check out some of the best posts from 2008.
The 6 Most Trafficked Posts of 2008
The 7 Best Posts You Didn't Read
If there's a particular post that you enjoyed from 2008, please let us know about it below. Here's to a fun and safe 2009, where together, we'll MAKE WORK BETTER!