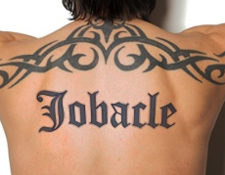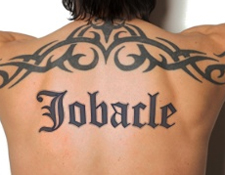 Body art has been a form of adornment and branding for bikers, athletes and entertainers for ions. Due to increased social acceptance, greater exposure, and changing norms, body art is gaining popularity with "common folk", and is now viewed as much of a "fashion statement" as a hairstyle or designer label.
In fact, today it's not unusual to see body art adorned by everybody from white-collar professionals, to middle aged moms. Among them are those that perceive tattoos as merely an extension of their first amendment right to freedom of expression.
I conducted an informal survey of about 100 friends and acquaintances, and found that about 40% of them had tattoos ranging in number from 1 to 7. Most bearers said that they felt that tattoos were "sexy" and allowed them to uniquely distinguish themselves. Some confessed to having gotten them in an act of rebellion back in their adolescent years, and later adding on more.
But be forewarned. Just because something is popular doesn't necessarily make it prudent! Whether consideration for tattoos arises as the result of youthful rebellion, the desire to memorialize a romance, or a midlife crisis, it comes with some repercussions and potential regrets
Not everyone perceives tattoos favorably. Especially hiring executives who wish to have those that represent their businesses to maintain a conservative image. A friend of mine found this out the hard way when his tattoos posted on his arms and neck were frowned upon by prospective employers. Repeatedly.
When he finally did manage to land a job, he was forced to wear long-sleeved shirts year round (in 100 degree weather even), to comply with his job's corporate dress policy.
(That's gotta' be brutal!)
Think before you ink!
Here are a few things to consider:
– Remember the mantra of real estate—location, location, location! In other words, a pink butterfly tattooed on your tush obviously won't be visible to the general public and may be a safer choice than a big rose on your shoulder or forearm.
– Tattoos applied as a confirmation of undying love will lose their appeal if the relationship ends, (which more times than not happens). Then where will you be with "I love Pookie?"
– If not applied properly, or under less than sterile conditions, a tattoo can cause Hepatitis B, keloid scarring, allergic reactions and other disorders.
– Tattoos are typically costly and painful to remove.
Still determined to add a little dazzle to your body"s display? Try purchasing body decals and tattoos that are adhesive, colorful and can be added and removed whenever you fancy. Either that or start your own business where you can establish your own "branding" in every sense of the word!
This is a post by Jennifer Brown Banks, a veteran freelance writer and pro blogger. She holds a B.A. in Business Management. Visit her site @ http://penandprosper.blogspot.com/