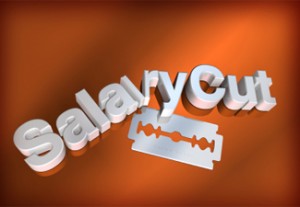 In a time when status and money get all the glamour, does it ever make sense to take a job for less money?
Most people's goals are to continually make more money throughout their careers, not less. Why would you do accept a lower salary, people may ask.
But sometimes, it truly is the best answer to a career move and it makes all the sense in the world. Here are some scenarios when taking a job for less money is the right thing to do.
When Happiness is a Priority
Sometimes a person has a high paying job that they really just hate.
It causes undue stress, they work with people they dislike and find no internal satisfaction. Then along comes a new opportunity, and though the money is less, the happiness is greater.
If your wallet can handle the pay cut, even if you have to cut back on certain aspects of your lifestyle, you may want to take it. If your happiness is a higher priority than your financial status, the pay cut can be tolerated. And you never know what it may lead to.
It Works Better for Your Family Situation
Maybe you are making tons of money, but missing out on your family.
You work instead of going to dance recitals, your nanny takes the kids to piano lessons and packs their lunch. You never see your spouse or even your dog. You may have an opportunity to take a job for less pay, but the hours will suit your family better.
Plus, you may not need to pay the nanny or dog sitter as much with your new job with better hours.
You Want to Change Careers
Maybe you got stuck in a career that pays well but it's not what you want. You get an opportunity to move into the field you've always dreamed of, but the job is for less money. Do you take it?
You may consider this as the way to get into your dream field, and who knows, after a while when you've learned what you need to know to get settled, you may end up making more money again.
Though Pay is Less, the Upsides are More
Perhaps the new job will pay you less salary, but the other aspects of the job add up to more. You could have better stock options, better 401k options, health benefits and insurance, and more vacation.
You are Moving
There comes a time when people want to move. Sometimes it's back to a hometown or maybe an area that is more family friendly.
If the cost of living is lower, the job salaries are probably lower as well. The good part about this is if you move to an area with a lower cost of living, you really don't need to make as much to lead the same life.
Your career is a big part of your life, and there's a lot more to it than money.
Sure, most folks would all love a big, fat salary, but your family, your happiness, your future and your overall well being are pretty important, too.
Set some priorities and see where it takes you. You may end up seeing that a lower paying job affords you the life you've always dreamed about.