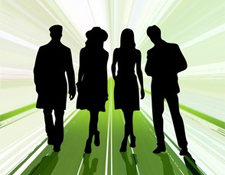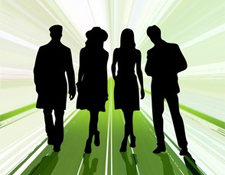 As summer fades into the rearview mirror, people everyone are shifting their focus toward fall, football and the upcoming holidays. A quick glance in any arts and crafts store serves as a quick reminder that staples such as Halloween, Thanksgiving and Christmas are closer than we realize. Sure this means upcoming gathering with are friends and families, but it also means lots of awkward office luncheons, obligatory gift exchanges and the all-too-anticipated holiday party.
Although most of us would prefer to go without the forced socialization imposed on us around the office during the holidays, we can't escape it and have to admit it's a necessary evil. For those of us that have experienced our fair share of these, we already have our routines down. We know who to sit with, who to avoid and what topics are and are NOT appropriate. We've perfected our grin and bear it faces and know just how much fake enthusiasm is enough.
Now, those of you who actually enjoy the people you work with this whole article will seem odd and foreign, but for the rest of us it is completely relatable. Anyway, being a seasoned professional myself, I feel it is my duty to help prepare the new crop of young professionals for what awaits them over the coming months.
Up until this point, they have likely never experienced anything like this. Sure, they may have had jobs and internships throughout college, but they likely still had those days and weeks off around Christmas, Hanukkah and Thanksgiving leaving little to no time for the sheer discomfort the rest of us have grown accustomed to. That being said, below is my advice on how to survive various aspects of the holidays around the office. Enjoy!
Office Luncheons
Depending on the company you work for, the food may or may not be amazing, but regardless it will be a free meal—something any recent grad should still appreciate—college wasn't THAT long ago! Anyway, my biggest advice for surviving this ritual is to attend with a safe group of people you can tolerate. If you wander in either too early or too late you run the risk of getting stuck next to that smelly guy from accounting or the dull mail girl that doesn't really talk about anything. Sure this might sound tacky and rude, but if you're going to be forced to spend your one free hour a day with EVERYONE you work with, you should do what you can to make it bearable.
Obligatory Gift Exchanges
If your office or team is one that partakes in the "white elephant" or "Secret Santa" gift exchanges, you might find yourself racking your brain about what to get. You still feel too new to get something funny and impractical and you're still too broke to buy anything really nice, not to mention you likely don't know anyone well enough to get something genuinely meaningful. So, to help you save time and save face, stick to gifts from this list. Not only are these all generally safe bets, they are also relatively affordable coming in at under $25.
Annual Holiday Party
When I had my first real job, I avoided the company party the first year. Looking back I definitely regret it, because if nothing else it's an opportunity to enjoy a free meal, and possibly even a few free drinks. That being said, don't go too crazy. Drinking a couple is completely ok, but getting sloppy drunk is definitely not advised. If you feel the need to get particularly sloshed that night, save it for the after party when you meet up with you REAL friends and talk about how ridiculous the whole thing was. Getting drunk around your coworkers leaves you open for all sorts of mishaps and embarrassment, so avoid that altogether by staying within your limits.
So, if you're dreading the upcoming holiday rituals with your colleagues, keep these tips, tricks and suggestions in mind. If nothing else, they should save you job and sanity all at once.