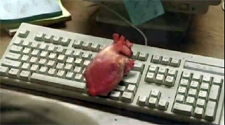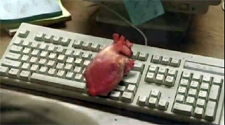 Super Bowl XLII will be remembered for many reasons. However, the commercials, which cost advertisers $2.7 million a pop for the air time, were lackluster at best.
Over 300 million eyes deserve better. Especially when you consider over 30% of Americans watch the annual game just for the ads.
Being a career and employment blog, let's zero in on ads that had to do with working.
CAREER BUILDER: Last week we expressed our excitement that CB was finally getting away from animals and concentrating on motivating passive job seekers. In this humble bloggers opinion, the ads were NOT effective and fell flat.
I recognize that it's easy to sit here and criticize without offering a better solution. But giving away ideas for free would just be foolish. What I will say is that my biggest beef is that the job-seeking individual watching the game couldn't connect with the characters in these ads.
Want our attention? A heart jumping out of a woman's body isn't the way to do it. It's just creepy. Here's some imagery CB should consider capturing if they truly want to speak to job hunters:
– Rings under our eyes from stress
– Infuriating micromanagers
– The dread of the Sunday Night Blues
– Suffocating in red tape
– Fear before a presentation
The list can go on and on. And the avenues of exploration are endless.
What's missing from these ads is the claustrophobic sensation of desperately wanting change and feeling like you're stuck in corporate quicksand. Realistic themes resonate.
One ad, "The Queen of Hearts," had a miserable employee's heart explode out of her chest and march into her boss' office to quit. The Associated Press says the spot was "jarring yet effective."
Everyone has an opinion. I found myself neither entertained or motivated. In fact, the room fell silent after for a moment after the ad. Awkward. The only time it got quieter was when a dreaming job seeker wished upon a star, only to have his dream deferred by a spider (get over the animals!).
We hope they follow their own advice and "Start Building" — new ads.
Many other ads attempted to capitalize on the office / work phenomenon.
SALESGENIE: Another low-budget turd. The animated spot had a Simpsons' Apu wannabe make us all feel stereotypically uncomfortable. Yeah, I'd trust them with sales leads and mailing lists.
TIDE: Tide-to-Go, in my world know a stain stick, launched a talking stain who sabotaged a job interview. I found the ad somewhat amusing, though it really only needed 10 seconds for you to get the point. With a backend viral marketing campaign that includes thousands of prizes and a chance to spoof the ad, this one might have legs.
The National Youth Anti-Drug Media Campaign: The drug prevention information Website featured a drug dealer putting the addiction onus on prescription drugs, complaining that he was struggling to make ends meet and that parents need to double-check their medicine cabinets. The image of a drug dealer losing his gig was interesting.
AMERICAN AIRLINES: Unable or unwilling to create a new spot, AA went back to the well with their team-building exercise ad that features the nightmare known as convention ice breakers. Reeking of escapism (just get on a flight and get outta there!), the ad was mildly humorous, even on a second pass.
TACO BELL: Fiesta platters at work. That's what we all need. A way to spend $5 and disrupt everyone's day. Keep the stinky food out of the office. I'd rather have mariachi band play in my cube.
Am I missing any work-related Super Bowl ads? I'd love to hear what you thought about the ads, particularly the ones from Career Builder.
One thing is clear, attention-grabbing gimmicks and an obsession with the animal kingdom have gone too far. I'd look for a change next year. Or maybe Danica Patrick will just get completely naked and reveal her beaver. I'm also a little tired of Will Ferrell playing Will Ferrell.
Bottom line: I miss Terry Tate, Office Linebacker.