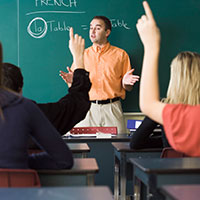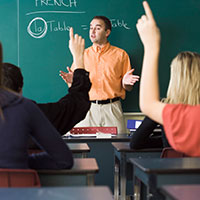 Some time ago, in a typical morning session with a bunch of rebellious teens, one of my many "admirers" shouted at me, "You needs to stop riding our backs and get yo'self a real job!"
After I politely put her in her place (and corrected her grammar), I assured her that substitute teaching was a real job; and I assure you too. 🙂
BACKGROUND…
Substitute teachers are like understudies are to actors. It's estimated that by the time that most students graduate from high school, they will have spent the equivalent of one year under the instruction of a substitute teacher. Yet, substitutes remain an enigma. For example, did you know that in many states Subs are required to have a four-year degree and hold a certificate in substitute teaching before they enter the classroom? Or that Subs can earn full time pay for part-time hours? Or that these professionals are considered as part of the "real" teachers' union?
Why So Many are Transitioning to this Field
Many worker bees take the plunge because in Corporate America, they tire of office politics, competitiveness, rigid bosses, rampant rules, and little job gratification. In essence, they "burn out". For others, it's the need for more autonomy, more flexibility and greater personal gratification. While for a growing percentage, it's a viable option after being downsized and uprooted from a "secure" 9 to 5 gig. An added bonus is that this industry tends to be less inclined to view youth as an asset. Being a "mature adult" is not frowned upon, and actually can be in one's favor.
Depending upon your economic status, you can also hold this position solely, or moonlight while pursuing other interests. It works particularly well for writers and entrepreneurs.
Like any other vocation, however, it does have its downside. These are the pros and cons:
PROS:
*
Flexibility/Short Work Hours
– (Anywhere from a 3-6 hour day with breaks included). Summer months off. No need to fake illnesses. Don't feel like reporting to work? You're not penalized. Subs are required to teach minimally once every 90 days in order to keep their certification.
*Camaraderie of Peers- Teachers are typically nice to work with. There's a pervasive "We're in this together" mentality.
*Discounts from Stores and Organizations– Did you know that teachers get discounts at stores like Borders, Office Max, and certain office supplies places?
*High Demand– Because of the current teacher's shortage, caused by retirees and population growths, job prospects are still good in many areas.
*Ease of Transitioning– With a minimum of a bachelor's degree and some testing, this field is relatively easy to get into or get out off. Aspiring teachers can also work towards an online teaching degree, earning it from home.
*Gratification– Teachers impact lives and mold minds.
CONS:
*No Benefits– Unlike other employees, Subs don't receive health or life insurance.
*It's Challenging Work– Kids of today are much more energetic, more inquisitive and have to deal with some deep social issues that are a product of our times. In many instances you may be required to be a counselor, a parent and/or friend. Ideally you should enjoy working with youth and have a good deal of patience!
*The Pay Is Moderate– Considering the integral role played in society, teachers are not paid nearly enough. Especially considering that athletes and entertainers make millions.
*Safety Can Be an Issue– Although violent incidents are far and in between they do sometimes exist.
So, if you don't mind the occasional thrown book at your head, or hurled obscenities, this just might be the career for you!
For more information, contact National Substitute Teachers Alliance at 888/304-4001.
This is a post by Jennifer Brown Banks, a veteran freelance writer and pro blogger. She holds a B.A. in Business Management. Visit her site @ http://penandprosper.blogspot.com/