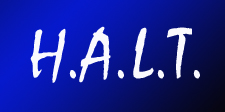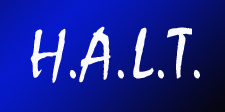 I can already feel my jaw start to clench when someone asks me about my holiday plans. Combined with heavy workloads (last quarter/last chance?) and family expectations, we get a little nuts this time of year, but a lot of that stress is self-imposed. So, how can we not give in to the usual frenzy and stay saner this year?

I love a good acronym, don't you? H.A.L.T. is one I borrow from 12-step programs because it's especially applicable this time of year. HALT stands for "hungry, angry, lonely and tired." A great tool for the newly recovering person, it fits for the "lay" population, too.

H – Don't get too hungry: Over-indulging is practically a national pastime this time of year. (I come from and married into a family where eating is almost a contact sport – it's not pretty.) But high-carb and sugar intake can make you cranky and stressed. Pace yourself.
A – Don't get angry: Going into potentially stressful situations (mandatory holiday work/family gatherings) and feeling irritable, moody or angry can be hazardous. Anger can throw us off our game and being angry can lead to unhealthy behaviors
L – Don't get too lonely: Too much isolation and withdrawal from social activities can be a symptom of depression and/or anxiety. While some down- or alone time is healthy, make an extra effort to spend time with your support system.
T – Don't get too tired: The majority of us stretch ourselves too thin during the holidays. Being sleep-deprived and overtired can result in making bad decisions and additional stress. Know your limits and set them for people and activities so you can get enough rest. This is especially important with work. Work hard, but try not to overdo.
One of my favorite stress-busting resources is the book, Practice Safe Stress by Mark Gorkin, MSW, LICSW, "The Stress Doc" ™. Gorkin is a Licensed Clinical Social Worker, an acclaimed keynote and kickoff speaker and "Motivational Humorist." In addition, the "Doc" is a team building and organizational development consultant, and is America Online's "Online Psychohumorist"™ Check out his blog, stressdoc-com.blogspot.com to learn more.
Go easy on yourself this season. You'll thank yourself in January!
This is a post by Nancy LaFever. You can read more from her at the Centre for Emotional Wellbeing blog.