He got his start laying pipe for the Atlas Water and Sewer company. Eventually, he climbed the ranks, becoming responsible for a staff of 800 and annual revenue exceeding $120 million. His name is Victor Kipling. This is his weekly column.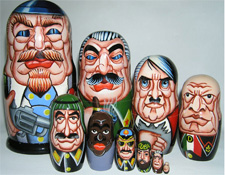 When they say that 'those who don't learn from history are condemned to repeat it', they must have-had to have-been thinking about horrific dictator bosses and how to deal with them. Because, as we all know, human nature just ain't gonna change, no matter what spin we put on it or what euphemisms the corporate world uses to manipulate us into thinking otherwise. And that's why it's no surprise that history is replete with the proverbial bad boss; the psychotic, the cruel, the blood-thirsty tyrant who has caused bookoo human misery and, what's more, is damned proud of it!
Like all psychopaths, these types of humangarbage come in all shades, types and stripes. More relevant to us, they infect all levels of the work-a-day world, everything from running a country to managing a small office. They no longer need to wear black uniforms or high boots to strut their stuff…in fact, they can appear as modern and fashionable as the super-bitch played by Meryl Streep in 'the Devil Wears Prada'. So, the question is whether your boss, who most likely at least definitely qualifies as an asshol*, meets any or all of the characteristics of a full-fledged dictator.
The primary traits of a dictator are basically grandiosity (my shi* never stinks) combined with feelings of suspicion towards everyone else. In today's' corporate world, much of these characteristics are somewhat masked, so that modern office dictators are all the more dangerous today than they were in the pre-politically correct era. At least you always knew where you stood with those guys. While yelling, bellowing and cursing bosses are mostly out of vogue today, more subtle, but equally deadly, forms of intimidation have simply taken their place. Just as an example of how dictators can very readily adapt to modern circumstances (a great sign of a pure psychopath), the infamous Idi Amin organized his band of professional killers into something called the State Research Bureau. Hmm, torture with an almost academic twist. But then again, did you really expect him to call them Murder Inc.?
While modern dictators, especially those in a corporate environment, still retain all decision-making power over everything, they may well make a pretense of delegating a task or even asking for your opinion, in order to appear as a shining example of a benign, democratic leader. Not only will your ideas be ignored but, guess what, you can expect some real nasty payback for any perceived slight or disagreement. Also, the modern dictator will continue to not only make unrealistic demands and have unreachable expectations, but will take great pride in his excessive harshness. A real 'take no prisoners' kind of guy, someone who can easily brag about how he fired some sick, recently widowed old-timer who just didn't fit into the new regime. And, unfortunately, these types of dictator bosses usually also have a helluva lot of energy-especially because they need to constantly feed their starved and flawed egos at the office, one victim at a time…
So, the real question is whether we can at all defeat-or more realistically-cope with such a boss. True, this is America, and if you're unattached and have very few obligations, you can indeed tell the dictator to 'kiss the sunny side of my ass' and walk away, vowing never again to allow yourself to be in such a position. But, more likely, you do have commitments, a career and, at least for now, you just need to find a way to cope with the bastard. It's all about, for most of us, playing for time until we can find another job, or relocate, or go to cooking or welding school, etc.
Well, and at least in the interim, why not try to defeat the dictator at his own game, but in reverse? In other words, just because the dictator's manipulative, there's nothing to stop you-unless you've got a very weak stomach or insist on maintaining the moral high ground as The Last Honest Man-from using his own narcissism against him. For example, make him think that not only do you admire him, but that he's really like a Life Mentor to you. You know, like how you two really share a world view, or something to that effect. You'd be surprised at how many of the crudest and nastiest office dictators fall, at least to some degree, for this one. Also, when he loads you down with a ton of work, as part of his need to feed on failure, ask him how he would prioritize the work. In this way, not only do you engage him in the planning process, but he'll feel flattered and may have a new investment in your success. Sure, you can also pretend to totally yield to his authority, trash your peers in a display of total loyalty, befriend his secretary, and overall do anything that demonstrates the blind obedience he not only demands, but urgently needs.
Remember, you can only hope to survive the dictator if, first of all, you really want to, and secondly that you recognize and accept the need to deal with the evil twins of narcissism and suspicion that embody every dictator.
Read Victor's previous column on workplace dictators.