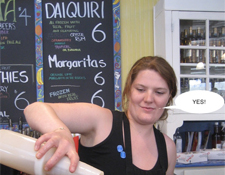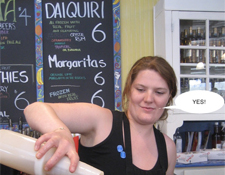 Congratulations! You've just graduated college. Nights of crumpled Red Bull cans, twitchy eyes and library sleepovers have finally paid off with the ultimate prize of a shiny new liberal arts degree. When the celebratory parties and confetti parades finally die down, it's time to step into the next exciting part of your artistic career: the service industry.
Now don't despair – it's possible this might only be temporary. Your dreams of using models as pool floaties in the Hollywood Hills are still intact, just… displaced for the moment. Hold your head up, move through the seven stages of post-university despair, toss off that mortarboard, and tie up your apron. Some might consider it "beneath their degree", but the service industry is a fantastic way to make money fast while you search for that higher calling. Los Angeles and New York aren't cheap, and like it or not, you'll need something to pay for rent and food while you network. Additional benefits include increased cardiovascular health and the opportunity to meet new people, so get excited for the wonderful adventure that is serving others! (Oh also when you can, the little boy at table ten spilled the entire bottle of ketchup on the floor, if you could just… yeah, that'd be great. Thanks, Hun!).
There are many superb positions to be occupied in the service industry universe. However, within the myriad options available to you, one job stands as the clear king overall. While the dishwashing serfs confront Sisyphusian piles of dirty plates, and the serving knights ride frantically around the kingdom completing quests, it is the powerful bartender that enjoys true command over the dominion. He controls mankind's most valued commodity, giving him (and his fortress of booze) leverage over the flocking crowds. Clearly, this is who you want to be, but you need to ask yourself a few crucial questions before vying for the throne.
Do you like being yelled at? A lot?
With great responsibility comes great pressure. It is your task to allocate alcohol to the masses, and each customer desperately believes that their need for inebriation is more important than the next. To eloquently express their pressing thirst, they will probably use such trusty methods as: yelling, screaming, flirting or breaking things. One night, while serving drinks to a girl telling me about my "super, super nice cheekbones," I dodged a glass flung from a neglected drunkard on the other side of the bar. Even if you think you've found safe haven in a low-key, artsy cocktail space, you never know when a lost pub crawl will burst in your door. Prepare for the worst and be ready to service rowdy crowds swarming around the bar.
Do you like watching people drinking alcohol in front of you? Do you like it less if you can't do it yourself?
You might get lucky and land a gig that lets you drink with the customers. Nothing establishes rapport better than going shot for shot with patrons, although too many cerebral tips might lead to your monetary ones floating way. (Bar tip #122: The customers should never have to cut you off). For most average to classy establishments, it will be strictly forbidden for you to partake in the libations with the clientele. It's like being a designated driver, only instead of sulking in the corner, you are charged with running the party. A lot of people become bartenders, because they love drinking, and then are disappointed when they find themselves on the wrong side of the bar. Utilize your skills and past party stories to work the crowd, but know that while you're at work, it's all business.
Are you a master of memorization?
A fun game played often by the cheekier bar patrons is "stump the bartender." It's a lot more fun for them than it is for you and is based on the principle that new drinks are being invented at an astronomical rate. In the time it takes you to read this sentence, five new outlandish drink ideas have been released to the public. One of them (probably) features coconut water, Five-Hour Energy drinks and gummy bears. There are about twenty standard drink recipes that you imperatively need to know to properly function in any bar atmosphere. If you can't conjure up an AMF or Mai Tai at the drop of a hat, you will severely hurt your crucial drink-making rhythm. Know your drinks and more importantly, know the layout of the bar (well liquors, beers, soda gun etc).
Those are the basic queries, although clearly, the art of bartending is a much more nuanced art form than just crowd control, memory games and applied temperance. We haven't even touched on the advanced techniques of flare, which (along with practice, practice, practice) will get you jobs at high-profile bartending venues. For entry level bar jockey positions, remember to keep a clear head, good attitude and unflappable sense of purpose. It's an extremely rewarding job for the outgoing, nightlife-loving personality and a great way to make a lot of money fast. Just be sure to watch out for that flying glassware.
Article from John McKay.