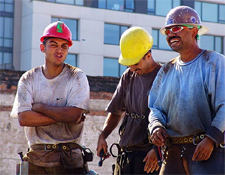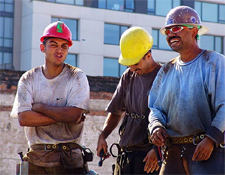 About once a year I find myself daydreaming about how nice it would be to leave my office life for one a little more rugged. One that would allow me to spend a little more time in a natural environment actually using the body I have. I've noticed that this desire usually pops up around the spring season. As I get in my car and head to the grind I'll drive past a construction site. There will be a group of people already well into their day, enjoying the sunshine, burning calories, all while building homes, offices, schools and other tangible things. I imagine the pride that must be felt after a hard day's work; not to mention the satisfaction one must feel when they drive through a town and know that they've help build it.
I'm sure a lot of that stems from that whole grass being greener thing. I'm well aware of the days – especially here in the south – when I am so grateful for my air-conditioned office. Still, I was raised in a blue-collar family, in a blue-collar town, and have paid my bills doing blue-collar work.
These days I wear whatever collar I choose if I wear one at all. I work in a very 'come as you are' industry so I make a living not really identifying with either group anymore. My work environment leans white, but my pay, and the fact that I earn a wage based on a skill, makes the trenches feel blue.
Whenever I find myself wavering I find it helpful to look at the pros and cons to find balance.
Blue Collar Pros
1) Physically active: Rarely do laborers need to read articles about exercises that can be done in a chair.
2) Camaraderie: The office break room has got nothing on the bed of a pick up when it comes to clowning around.
3) Play clothes: So this one is personal preference, but for me, forever in blue jeans is the only way to live.
4) Tools: Clicking a mouse or swinging hammer? For fun and stress relief I gotta go with the hammer.
5) Knowing other blue-collar workers: This is probably the biggest perk of all. Growing up blue-collar I knew auto mechanics, body shop mechanics, plumbers, construction workers, electricians, and landscapers. It is always assuring to know you aren't getting screwed. Hell, you'll probably get a discount too.
Blue Collar Cons
1) Seasonal: The outdoors could have gone either way, but not all blue-collar work is outside, and laying brick in August with no shade is not a treat. It's also no fun paying your bills when snow has kept you out of work for a month.
2) The Boys Club: I don't say it to discriminate, but let's be honest, men dominate these jobs. Sure it's fun for a while, but there's a reason these guys wind up gawking as though they've never seen a women before whenever one goes by.
3) The pay: Unless you're the contractor, the foremen, a specialist, or have been in a union forever, the pay and the benefits suck. Keeping this world running and growing is hard work, and if you're at the low end of the scale, you're gonna struggle. Especially when it costs $100 to fill up your truck.
4) Physical pain: One minute you're burning calories and the next minute you're burning you hand. A lot of the work is hard and I can't remember the last time I heard of someone breaking their back walking to a meeting, but I do know someone that broke his back falling through a ceiling. You can even lose a finger.
5) The hours: Another one that could go either way depending on your point of view. Construction starts before the sun gets too hot, and highways are repaired at night. For some that works out, but for most it does not.
So there it is, my personal view on blue-collar work. Feel free to weigh in with your thoughts and leave a comment!