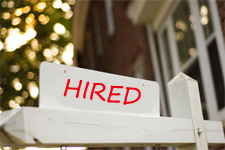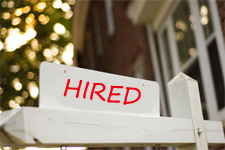 Long-time readers of this blog (and podcast listeners!) might be aware that I'm on the prowl for a new house. Always the obsessor, I'm in full research mode. Maps, charts, grids, financial tables and so on. Given that this is the single largest investment I might ever make, it certainly warrants extensive research. And that got me thinking…
We should all put this amount of effort into the job hunt. But I'm willing to bet that many of us don't. Here are a few reasons why you should make your job hunt like a house hunt.

Is It the Right Price (Salary): When looking for a home, it is important to first understand what you can afford. The same way it's key to know what salary range you are comfortable with. It's easy to fall into the trap of looking for a job that offers less (or more) pay than your qualifications and experience dictate. Whether it's a house or a job, narrowing down your search will yield better results, over a quicker time frame without wasting your or anyone else's time.
Neighborhood (Where do you have to commute to?): As you know, real estate often comes down to 'location,location, location.' While the locale of a potential job might not rank as high, it is still a critical factor. From how long your anticipated commute is, to the office's proximity to services and stores, take a look around before you accept a position. Make sure you are comfortable with the neighborhood's aesthetics, demographics and distance from home. Ask yourself how you will get there on a daily basis and how you feel about the trip. Just in case you'll be working long hours, you might even want to take a trip after dark to make sure everything looks the way you expect.
Timeline (How long do you plan to be there?): I've determined that I'm likely to live in a new house for five to 10 years. While I understand that life can't be planned perfectly, and that the timeframe can change, it's good to be forward-thinking on what's next – just not to an extreme. For example, if you don't have any kids, how worried do you need to be about the local school district? The schools will affect the value of your property, but making a decision based on what high school you're zoned for, when you don't have kids, might not be so wise. The same goes for a gig. Temporary situations can turn into careers and the 'dream job' can turn into a nightmare within a month. When hunting for a job, ask yourself where you are today and where you want to be tomorrow. Nothing is forever. Look forward, but not past the present.
Like what you're reading? Please subscribe!
Mobility. (Expand the ranch): Sticking with the point above, I'd advise that you make yourself aware of what the next steps within an organization might be. We all need room to grow; something to strive for. Accepting a great job that's destined for immobility within the company (and already at 'top pay') will be tomorrow's frustration. Sometimes it makes sense to buy a small house on a large lot. At least that way, the option to expand exists down the road. If we're going to be honest with ourselves, we can openly admit that we want more – irrespective of what we have. The possibility of dormering a cape might be a better move than that six-bedroom colonial.

Perks. (Bells and whistles): In-ground sprinklers, granite countertops and a wood-burning fireplace, all nice add-ons. While I'd love all of these things in my next home, they will not be deal deciders. If I'm comparing houses, I draw up a pros/cons list. This will help me make a tough decision. If you're fortunate enough to be offered two jobs or would consider staying where you are, the extra perks could drive you to make a choice. Stellar health benefits, 401k match and abundant vacation time can be factored in when making your decision.
Co-Workers. (Neighbors): This past weekend we saw a great house in one of our top-pick neighborhoods. As we stepped into the luscious green backyard I heard and saw what I deem a 'dealbreaker' – a scary-looking dude revving his motorcycle up on the patio as a raggy-looking dog roamed around for something to kill. You can't choose your neighbors, but I'll be damned if I'm going to spend my life savings to live next to THAT. Neighbors have the power to make your life more difficult than it has to be. The same goes for work. A dreadful boss or pushy co-worker can make work miserable. Spend some of your interview time sizing up your potential boss and analyze if you two are a match. I also think it's fair to ask to meet (or at least see) the staff and where you would be sitting. Make sure these things meet your standards and that there are no obvious red flags before jumping into a new job.
Value. (How will it look?) Earlier I mentioned the importance of looking at the school district to understand the value of a home. While you never tangibly have to 'sell' your job, you do hope that down the road it will help sell you. Ask yourself, and trusted colleagues, how they perceive certain employers and/or job titles. For example, a lower salary at a top firm in your field might open up better-paying doors down the road.
You are going to spend a lot of time at that new job. Maybe more than at home (hopefully not!). Give the job search the same care you'd give a house search. Hopefully you'll never have to tackle both at the same time. For me, there wouldn't be enough obsessive hours in the day.
My house hunt continues. Stay tuned…