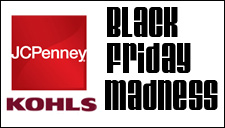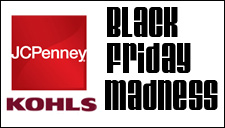 An open letter to stores that feel they have to push the envelope this shopping season, specifically on Black Friday:
Dear Kohls/JC Penney,
Congratulations! You're one-upped your retail counterparts by opening a whole 60 minutes earlier.
As if your employees weren't thankful enough for the crappy pay, lousy uniforms and non-stop Christmas music – now they have the pleasure of reporting for duty at 3am.
I'm sure they'll have plenty of nice things to say about you over Thanksgiving dinner.
Retail giants won't be happy until the PR nightmare hits. The headline will read something like this:
Family of 3 Killed When Soccer Mom Careens Off Road Rushing to Save 10% on an Irregular Pair of Levi Jeans

Have you guys ever even been out at 4am? It's dark and lonely. A time reserved exclusively for silence and 9-1-1 calls.
I get it. We're a capitalist nation and our economy relies on hardcore holiday shopping. Or at least that's what the media tells us. It's up to the folks making $48k a year and $9 an hour to shop 'til they drop.
Maybe this year I'll eat straight through until 4am. With a tummy full of turkey giblets and cranberry Jell-O, I'll take the maximum number of items into the dressing room and jam a hanger down my throat. That'll teach these stores a lesson.
Nah, it'll just be the unlucky bastards at work who'd have to clean it up. I'm sure the only place the CEOs of these companies will be at 4am on Friday is in their beds – where everyone belongs.
I say do your shopping online, and actually enjoy the extended weekend.
Sincerely,
Andrew G.R.
Jobacle.com