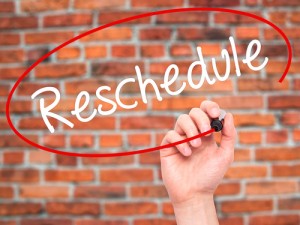 Thinking of rescheduling an interview should make you think again!
The big day has arrived and you suddenly find yourself battling a nasty cold. Do you go ahead with the job interview or contact the interviewer to reschedule? Many career pundits strongly urge job candidates to fulfill interview obligations. However, we've never met a company recruiter that wants to sit across from a job candidate that constantly coughs and sneezes.
Rescheduling an interview because you're sick is a no brainer; you only have to speak a few cold medicine addled words to get the job interviewer on your side. Outside of a bout with a nasty cold, you need to follow a few steps for rescheduling an interview that include knowing exactly what to say.
Give Enough Notice
You can have the best reason for missing an interview, but it means nothing if you wait until a few hours before the scheduled meeting. Provide as much notice as possible to allow the company recruiter more time to fill in the slot for another candidate. Moreover, by giving plenty of notice, you mitigate company concerns that you possess poor time management skills.
Speak Slowly
Non-verbal communication plays a vital role for allowing corporate recruiters to assess job candidates. Yet, rescheduling a phone interview by calling a recruiter gives the recruiter little non-verbal evidence to judge your veracity. The only non-verbal cue that potentially trips you up is speaking too fast and using a high-pitched tone. Rushed spoken words convey a lack of honesty, which places your reason for rescheduling an interview in a bad light.
Tell the Truth
You can count the valid reasons for rescheduling an interview on one hand. By valid, we mean valid to the company recruiter. Therefore, with a valid reason, you have no reason to lie. Tell the truth and do so by speaking in an even tone, with an inside voice volume.
Here are the five valid reasons for rescheduling an interview (we already discussed your health):
Funeral
Emergency
Car breaks down
Child sent home sick from school
Weather keeps commuters off the street
Emergencies encompass unexpected events that require your full attention, from dealing with a house fire to taking a neighbor to the hospital for emergency surgery.
Semantics Matter
For rescheduling an interview, what you say matters just as much as how you say it. Start the dialogue by issuing a pleasant salutation and then remind the interviewer about the date and time of the interview. Then, say, "I would like to reschedule the interview at a date and time that fits within your busy schedule." Don't say, "I need to reschedule the interview." Using the word need suggests your needs supersede the needs of the interviewer. You don't have to offer a reason why you would like to reschedule the interviewer. Wait for the interviewer to ask the question and then respond truthfully by giving one of the valid reasons. Finally, never forget to thank the interviewer for rescheduling the interview.
Confirm Via Email
Don't make the mistake of using email for the primary mode of communication. You must reschedule your interview over the phone or better, in person by making a trip to the company headquarters. A job candidate that reschedules an interview in person impresses corporate recruiters. It also gives you the platform to showcase your verbal and non-verbal communication skills. Only use email as a follow up form of communication that confirms that date and time of the rescheduled interview.
For job interviews conducted over the phone, make sure the interview is scheduled well in advance. Politely decline an unexpected request for a phone interview by telling the truth. Explain to the company recruiter that you need an hour or so to prepare for the interview.
For rescheduling a job interview, the truth shall set you free.