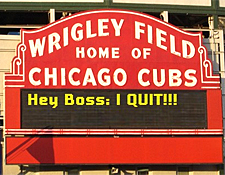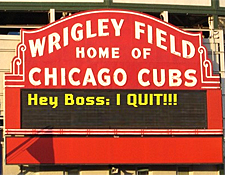 Cue the sky-writing plane and put HR on notice, Steven Slater, the former JetBlue employee making bosses sweat around the world could be getting his own reality show. The show would revolve around angry employees handing in resignations spectacularly.
This guy will NOT be tuning in.
In the same vein that athletes are "paid" to sign autographs, folks working in the customer service industry are paid to swallow sh*t. It's not fair, it's not right, it's just the way it is, and it's the way it will always be, no matter how many workers quit in crazy ways.
There is a way to carry yourself, no matter how others treat you – and there's a right way to quit a job. (Try starting with a quit letter).
If we celebrate people who have a 'take-this-job-and-shove-it' mentality, we are not respecting the people who do the right thing – or the ones who aren't working.
At the rate we're going, these could be quitting headlines from the future:
– Doctor Takes Patient Off Life Support, Tells Chief of Staff 'Career Is Dead'
– Veterinarian Quits, Sets Animals Free
– Taxi Driver Makes Own Route, Strands Tourist 100 Miles From Hotel
– President Kennedy Shot By Government, Teacher Tells Students
– Bellhop Busted Breeding Bed Bugs
Steven Slater's defenders will tell you that he didn't hurt anyone so what's the harm. But that's simply not true. He tarnished a brand name. An industry. A profession. And more dangerously, he set a precedent for nasty quitting.
I started Jobacle back in 2005 (then the Working Podcast) as a vehicle for angry employees to have a voice in a world cluttered with generic career advice. So while many readers might find my anti-Slater stance surprising, I simply have no tolerance for someone acting like an ass, upsetting paying customers, and then becoming a laudable mascot of a movement.
Customer service is one of the pillars that holds up the global economy – respect it.
notice quit