He got his start laying pipe for the Atlas Water and Sewer company. Eventually, he climbed the ranks, becoming responsible for a staff of 800 and annual revenue exceeding $120 million. His name is Victor Kipling. This is his weekly column.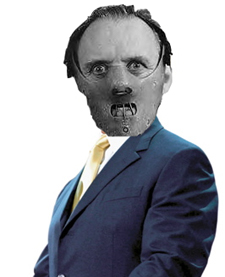 If Halloween doesn't give you the creeps anymore, well then maybe you ought to think again. True, it's cool outside and leafless trees stab at night skies. And the usual slash-mouthed jack-o-lanterns seem to leer at you as they blink from behind darkened windows. Movie monsters like Michael Meyers, Jason and Freddy re-emerge for the annual TV horrorthons. Weilding bloody axes and knives, we mistakenly call them 'psychopaths.' If only it was that simple…
Most of all, Halloween is all about masks; masks and disguises. And while we find this a bit of harmless fun once a year, the fact is that, hey, it's really Halloween at the office every day! Because many of our co-workers, and bosses, wear masks all of the time. Some are so adept, that they have a different mask for each occasion. And, unless we get smart enough to peek behind this facade to learn who we are dealing with, we can be suckered, fooled and even find that a promising career is nothing more than smoking rubble of what might have been.
True, work is also very much like being at a costume party, but without the fun. There are all the standard types in attendance; the bitter old-timer, the overly ambitious young hateful, the slut and the snob, the barking assistant manager, an array of flunkies. And, while the list goes on and on, there are also some decent people sprinkled into the mix. But it's not any of these types that you need to worry about.
The most dangerous enemy you have at the office is the psychopath. So no, this isn't your garden variety of serial killer.But rather someone who, via a variety of disguises and minimal talent or ability, gets to move up the organizational food chain by lying, backstabbing and in general climbing over everyone else. The psychopath has no conscience, and so is capable-and more than willing-to do whatever it takes to satisfy his (or her) predatory appetites. And, unless you know what to look for, you may well end up being the psychopaths,well, lunch.
The difficulty here lies in being able to detect and identify who, among the mix of people you interact with at the office every day, these masters of deception are. Though they always want to remain well hidden, behind what some have called a 'mask of sanity,' the fact is that they are identifiable. Here's six main clues in finding out who these creeps really are:
1. Overly charming, glib and manipulative
2. Bloated sense of self worth
3. Lacks sympathy and empathy for others
4. Refuses responsibility for failures and mistakes
5. Lies and deceives to obtain goals
6. Acts impulsively (drama queen)
Ah, you may well now be thinking that hmm, this just about describes every successful politician and corporate VIP out there. But this isn't about them; it's about you. Because once you know psychopaths for what they are, the decision to fight, flee or freeze will be entirely up to you.