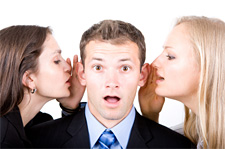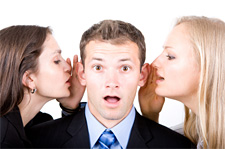 Just as Benjamin Franklin convinced us that nothing in the world was certain but death and taxes, nothing in the office is as certain as boredom and consequently, gossip.
Gossip is an inevitable and unavoidable pettiness in the workplace. No matter your stance on it, it will always prevail and it will always be there. Just as we manage daily our grasp on death and taxes, we must manage and deal with office gossip. Here are some tips on coping:
1. NEVER be the person spreading the gossip. Unless you want the nickname Chatty Cathy, and then by all means, go for it.

2. When it eventually comes your way, remember that office gossip is similar to the game telephone you played as a kid. It certainly isn't the same information it was when it started.
3. When the information comes your way, play ambivalent. I don't care if you just found out that your boss is sleeping with the CEO of your company and it finally explains how the idiot has kept his job, act as if you don't care. This will eventually dissuade the gossip queen or king from coming back to you with more dirty office secrets.
4. Finally, admit to yourself that while you know that gossip is unproductive and unfair to the person it targets, it does spice up the workplace. AH HA, so you admit that you are part of the problem!

The truth is that gossip will always be a part of the workplace, but as a love-hate relationship. We love it when it doesn't include us but it entertains us, and we hate it when it affects us. By keeping these tips in mind, it can help you deal with this certainty of gossip in the workplace, but above all, create more understanding when it does occur.
Real lives hang in the balance. A co-workers messy divorce or financial woes are no laughing matter. Before sharing something you're heard, pretend it is you in the situation. Because as immune as you might feel, tomorrow's water-cooler gossip session could easily be about you.
This is a guest post by Lauren Kleinman.