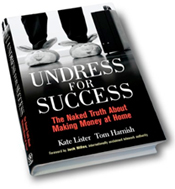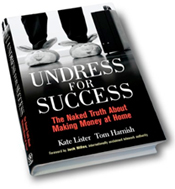 For many professionals, working from home is not just a dream, but it is THE dream. Since every scammer, shark and charlatan is aware of this fact, the world is flooded with work-from-home schemes. One of the better resources that we've seen in quite some time for folks looking to make a living from home is Undress for Success: The Naked Truth About Making Money at Home.
Whether you're a freelancer, employee or business owner, you will find useful tips and advice that will bring you one step closer to becoming an e-worker.
Several surveys I've come across recently have stated that up to 75% of companies are currently offering e-work as an employee benefit. As many of us hold on for dear life during this recession, you would think that ALL employers would see the benefit in "telework." E-work does not just benefit the employee, but the rewards are often even greater for the organization – and the world. Who doesn't want to reduce our nation's dependence on foreign resources? Lower greenhouse gas emissions? Reduce traffic? Bring back jobs that have been outsourced offshore? It's a no-brainer, right?
For the record, my old-school employer does NOT permit e-work. Thats's right. It's NOT an option. Ever. You can chalk it up to fear. It's this inability to evolve that will weaken the organization's working gene pool over time and leave them vulnerable to the competition.
I need to send our HR folks to the Telework Savings Calculator. That might change some minds!
Until I read Undress for Success, I did not know how ambitious the U.S. government has been with encouraging e-work as an option for federal workers. Well done!
To find out which job boards are the best for work-at-home jobs and to get the latest home-based work resources, visit UndressforSuccessOnline.com.
The book is a useful self-evaluation tool, helping you determine if e-work is a good option for your line of work. The answers might surprise you!